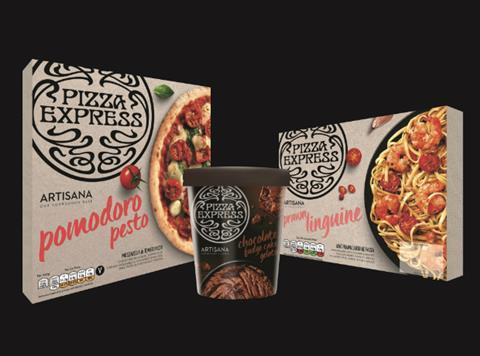 Pizza Express has teamed up with Iceland to launch a range that marks a number of grocery firsts for the restaurant chain, including its debut in the frozen category.
The new 11-strong Artisana line-up of frozen products rolled out exclusively to Iceland stores this week.
All recipes are new to the brand, which is making its fmcg entrance into the ready meal and gelato categories, and has for the first time produced pizzas with a sourdough base – which freezes better than a regular bread base.
The relationship between restaurant and retailer would be "ongoing" and was partly due to the "fantastic job" Iceland had done for the Slimming World range of ready meals, Pizza Express commercial controller Matt Ward told The Grocer. "A real strength of Iceland is its ability to bring a brand to market and represent it really well."
Artisana is a collection of five pizzas (Caprina, Pomodoro Pesto, Pepperoni Doppio, Hawaiian and Polpette Bolognese), three meals (Prawn Linguine, Baked Melanzane and Tripolene Bolognese), and a trio of gelato (Chocolate Fudge Cake Gelato, Sicilian Lemon Ripple Gelato and Tiramisu Gelato).
It represented a "big move" for Pizza Express "into areas where we don't currently operate" said Ward, satisfying a different customer need from that served by the brand's chilled portfolio.
The new range came "at the right time" for the brand and presented an "opportunity to raise the bar on quality in the frozen category, while complementing our existing chilled proposition" he added. "By merchandising the frozen products together, we are allowing the customer to enjoy a complete meal experience at home."
The launch is set to be supported with two bursts of TV advertising, full-page press adverts and door drops to Iceland customers as part of the retailer's Power of Frozen activity.