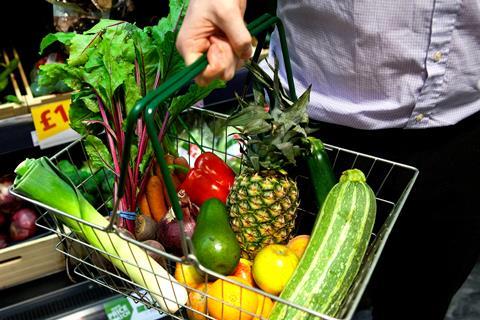 UK food businesses served or sold 162 million extra portions of veg during the past three years, a report into the effectiveness of the Peas Please initiative has found.
But according to analysis by the campaign's organiser the Food Foundation, the progress of the multi-industry scheme to increase veg consumption has slowed, with just over 72 million portions making it into shopping baskets or on to plates in 2020 – approximately 13 million fewer than last year.
Peas Please put this down to the impact of Covid-19. Analysis of the data also found the proportion of vegetables in shopping baskets had fallen from 7.3% when the push began in 2017 to 7% over the past year.
However, the report suggested consumption via the retail sphere may well have increased as food waste fell from 24.1% in November 2019 to 17.9% in June this year.
"Peas Please continues to show that it is in fact possible to move the food system in favour of healthier diets, but the pace is way too slow. The fact that veg as a percentage share of retail shopping baskets has actually fallen slightly over the past 12 months is something the retailers should be examining closely," said executive director at the Food Foundation, Anna Taylor.
"We need more transparent and ambitious targets to increase sales of veg, particularly in the retail sector, and a strengthening of relevant horticultural and food policies if we are to achieve our goals."
The new figures come after warnings from researchers of the cost implications of a no-deal Brexit on fruit and vegetable prices.
Research from the Sustainable & Healthy Food Systems consortium suggested consumers could have to pay an extra 4% for fresh produce on average, with some products like tomatoes set for hikes of 9%, if tariff increases were passed directly onto shoppers.
It said the average British family of two adults and two children would pay an extra £25-28 per year for their fruit and veg. But if they increased their consumption to the recommended five-a-day, the additional cost would go up to £65.
At the time of writing, the UK has replicated 23 out of the 40 free trade agreements it was signed up to as a member of the EU.