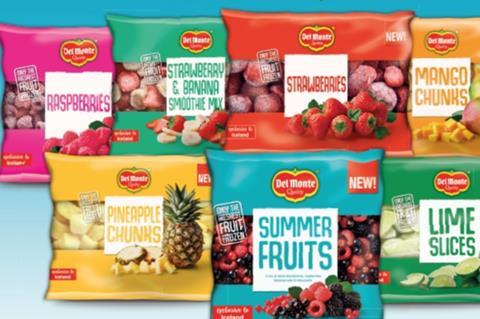 Iceland has partnered with fruit giant Del Monte to create a major new frozen fruit range.
Del Monte Frozen Fruits launches exclusively across the majority of the Iceland and The Food Warehouse estate and online in the UK, with selected lines available in the Republic of Ireland from today.
The range consists of 11 lines, including single variant packs of popular fruits such as frozen raspberries (350g) and frozen blueberries (350g), as well as solution-orientated offerings such as a strawberry & banana Smoothie Mix (500g).
The lineup also includes a 300g frozen pomegranate seed SKU – which is exclusive to The Food Warehouse – and beverage-friendly products such as frozen lemon slices and lime slices (both in 350g packs).
The NPD, which are priced at £2 per pack, take the total number of Del Monte products stocked by Iceland – including canned fruits, fruit juices and a lemonade lolly – to more than 20.
The products had been developed for shoppers looking for "quality, convenient solutions for creating delicious and nutritious meals at home", said Del Monte senior commercial director Martin Tilney.
"This proposition is perfectly suited to the modern, health-aware consumer and we are delighted to be working with Iceland to bring this range to market," he added.
Frozen fruit offered shoppers convenience and value, while also locking in nutrients and guaranteeing quality "by freezing the best varieties at peak season", said Iceland trading director Andrew Staniland.
"The exclusive Del Monte range is a great option for our shoppers, allowing them to reduce food waste whilst feeding their families delicious, healthy fruit. We're looking forward to seeing the response from customers as the products launch in stores and online."