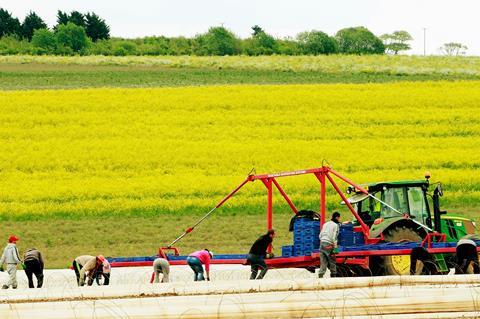 Seasonal worker shortages of up to 75% have been reported in some parts of the UK, sparking fears there will not be enough labour available to pick crops this year.
One senior food sector source told The Grocer the shortages had been driven by delays in the­ ­processing of visas, leaving some producers with just 25% of the workers they had originally booked in for harvest.
Meanwhile, some Worcestershire-based farmers are reporting shortfalls of about 30%, with others in the east of England have said up to half of their booked labour is missing, a second industry source suggested.
Julian Marks, group MD of global food and farming company Barfoots, said securing labour was an "ongoing challenge" and getting "pretty desperate". The business is "just about keeping our heads above water, but it could change in 48 hours or a week depending on delays on permits", Marks warned.
"The challenge for us comes in about a fortnight's time when we have Tenderstem broccoli and courgettes come in together, and you still have asparagus [to pick now]," he added, while noting promises from government over additional visas had not been kept.
Marks urged the government to get "moving now" to secure the sector's promised 10,000 extra visas under its ­seasonal workers scheme, as "we are heading into the peak season for everybody".
By June and July farms would need to be "running flat out", he added, "and it is going to be absolutely no use for somebody to then say more labour is going to arrive in August and September".
The first senior food sector source added that the Home Office had been rejecting some applications – a problem they anticipated would worsen due to the impact of a backlog in visa processing caused by a growing flow of Ukrainians fleeing the war in their homeland.
Many older applications were also being rejected as incorrect despite the information being correct at time of submission, they added.
A Defra spokesman said: "We fully acknowledge the food and farming industry is facing labour challenges and we are continuing to work with the sector to mitigate them."
He added: "We have given the industry greater certainty in accessing seasonal, migrant labour by extending the seasonal workers visa route until the end of 2024. This allows overseas workers to come to the UK for up to six months to work in the horticulture sector, in addition to EU nationals living in the UK with settled or pre-settled status."
The government was also "working towards attracting UK workers to the sector", he pointed out.
However, this suggestion was dismissed as "misguided" by Marks, who dismissed the notion "that somewhere in the UK there are hordes of hardworking people who want to come and pick fruit and veg. The reality is those people are not there".
And without the workers, there was a risk crops would be left in the soil, he warned.
"I know that there are salad growers in Kent who have already walked past crop," said Marks. "I know that there are asparagus growers who have mowed the top of the crop off to win themselves a week or two weeks and there are others who are saying that it looks like they will have to leave crop behind," he said. "Ultimately, if it can't be harvested there will be gaps on shelves."