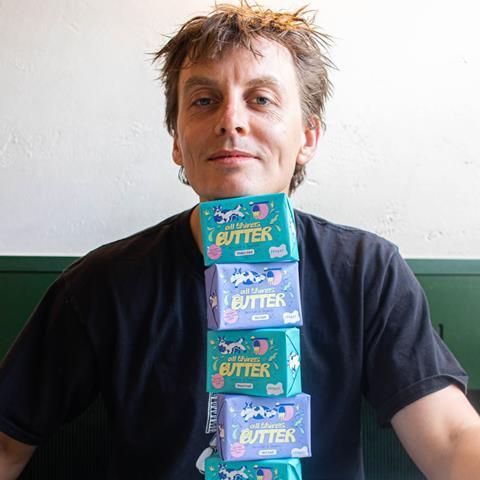 Organic butter startup All Things Butter has closed a six-figure pre-seed funding round as it readies for a November retail launch.
Chef Thomas Straker and best friend Toby Hopkinson founded the brand with the aim of disrupting the dairy industry.
Straker, who runs London restaurants Straker's and Flat Bread, explored ways to enhance recipes using butter in a series of viral social media videos filmed during lockdown.
The brand has now teamed up with Brue Valley Farm in Somerset, which uses traditional butter-making methods, churning twice to create "the perfect texture and extra creaminess".
Four All Things Butter SKUs will be available to consumers from November on its DTC website, supported by a unnamed supermarket listing, with 1% of sales going to support the British agricultural industry.
Pre-seed funding of more than £530k will be put towards working capital as the brand launches, and to add employees to the team.
Hopkinson, who was previously head of growth at CBD drinks brand Trip, said: "With retail listings confirmed for November and some fantastic investors on board, All Things Butter has an exciting time ahead.
"We have spent day and night perfecting our fresh flavour formulas and can't wait for our product to hit the shelves and the hands of consumers."
Hopkinson also led the pre-seed funding round alongside advisor Gavin Youll, backed by other high net-worth individuals.