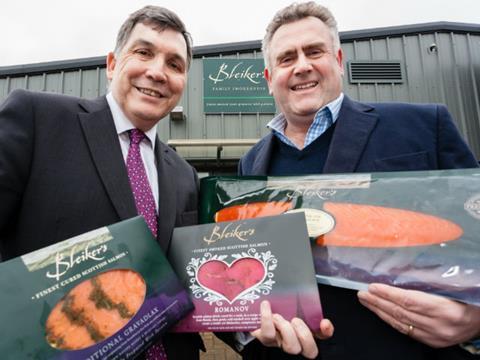 Smoked salmon producer Bleiker's Smokehouse has secured £3.9m in bank funding to expand its capacity to keep up with the demand from new contracts with Morrisons and Aldi.
The backing from Yorkshire Bank will increase the business' processing capacity and efficiency at its site in Leeming Bar, North Yorkshire, as well as boosting working capital.
Formed in 1993, Bleiker's is a second generation, family-run business supplying branded and own-label smoked fish to Morrisons, Sainsbury's, Tesco, Waitrose, Co-op, Aldi, Iceland, Booths and the convenience sector in Budgens, Londis, Costcutter and Spar.
It has grown rapidly in the past few years, winning new contracts and national distribution across the UK, and needed additional funding to create a new hot-smoking production unit and provide additional smoking capacity to fulfil increasing customer demand.
Turnover increased 3% to £11.6m in the year to 31 January 2016 as it won a contract to supply Morrisons' own label Market Street smoked salmon range, according to the latest accounts at Companies House. The additional factory capacity was expected to boost revenues 20% in the year ended 31 January 2017 as it diversified into foodservice and grew exports.
The business generates 50% of trading from private label and the remainder from its own brand, with 8% of the total coming from Italy, Germany, Switzerland and Denmark.
Sales are on track to hit £20m in the next five years, the business said.
"We have experienced significant growth in the last few years and, given our plans for further expansion, not only are we excited to work with a bank that best fits our current needs but also one that will be a supportive banking partner in the next phase of our business development," MD Charlie Andrew said.