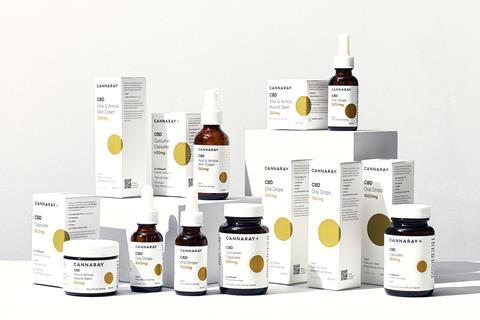 A new UK-based medical cannabis and CBD brand is targeting a £100m+ IPO to drive Europe-wide growth plans.

Cannaray, which raised £7.8m in growth capital last year and is nearing completion of a further £5m private funding round, hopes to list within the next 12 to 18 months on the London Stock Exchange, but Nasdaq or another main market has not been ruled out.

Chaired and co-founded by industry veteran Clive Sharpe and backed by high net-worth individuals, Cannaray envisions a valuation "north of £100m" as institutional investors come on board, post rollout: "The European market has been slower to grasp the opportunity in medical cannabis and CBD compared to Canada and the US," said Sharpe.

"Historically, there has been a stigma attached to medical cannabis in Europe. That is changing rapidly and, when it does, our plans to list on the Main Market will be completely doable."

Cannaray's range - including oral drops, skin cream and muscle balm - will be available on its website next week, with a listing at one of the leading UK grocery retailers expected "imminently", Sharpe added.

The brand plans to launch into Europe in the second quarter via the German medical market.

Cannaray's CBD products - designed to target anxiety, insomnia, joint and muscle pain - are currently derived from hemp grown by farms in Kentucky, with the company having obtained all necessary import and product designation licences.

A pipeline of NPD is in development, including a range of CBD-infused petfood that will take around two years to develop due to existing strict regulations.

CFO David Hogg said it did not envision a foray into food and drink products, but judged last week's FSA ruling on novel foods as "great news" as it gave investors "certainty and clarity around the law".

"Any well-run and appropriately capitalised business is going to be able to tick that box, [but] post 31 March 2021 a lot of the smaller CBD brands that aren't properly run will drop out of the market," Hogg added.
Cannaray has been tackling the issues around licences and regulation of medical cannabis by acquiring Therismos, a business holding licences from the Home Office and MHRA to be able to import and distribute schedule 2 drugs across the EU.
The company is also the process of applying for a licence to grow medical cannabis in the UK and acquire a UK-based laboratory to develop new products and delivery methods in-house.