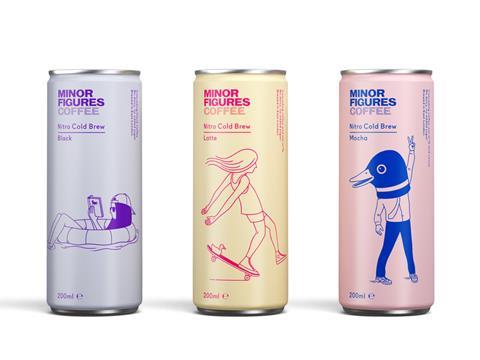 London-based coffee products supplier Minor Figures has secured a £7.5m investment to underpin a push into the US market and widen UK retail distribution.

The cash injection, for a stake of just under 20%, comes from an anonymous US-based private investment fund that has a number of investments in the plant-based space.

Minor Figures produces dairy-free milks, post-coffee CBD oil drops and canned cold brew coffee beverages as well as speciality coffees.

Founder Stuart Forsyth said the investment will enable it to "supercharge growth" with a focus on growing its nascent operations in the US.

Forsyth said it will initially focus on growing sales of its milks through its network of baristas and cafés in the country, with its RTD range following soon afterwards to target the retail space.

"We're at the intersection of three global megatrends - we are in speciality coffee, plant-based and no added sugar, which gives us the opportunity to touch millions of lives," he said.

The brand sells into 13 countries, with revenues primarily driven by its three core markets of the US, UK and Australia.

Forsyth said Minor Figures had grown at a rate of around 400% over the past three years, with revenues last year of £4m, and is on target for sales of £16m in the current financial period.

He is particularly targeting further retail growth in the UK through expanded listings. The brand is stocked in Sainsbury's through its Future Brands initiative and is listed by Ocado, Whole Foods Market and Planet Organic

"We've been a small brand without much muscle and now with this funding behind us we're looking for a larger exposure across our whole range," he said.

"Once you see our whole range, it's a very recognisable identity and brand that we know over-indexes massively with younger consumers and targets a very different audience to other RTD products out there."

Forsyth's previous business was co-founding KeepCup, the producer of recycled and reusable drinking cups that has grown into a global business with sales in 65 countries.