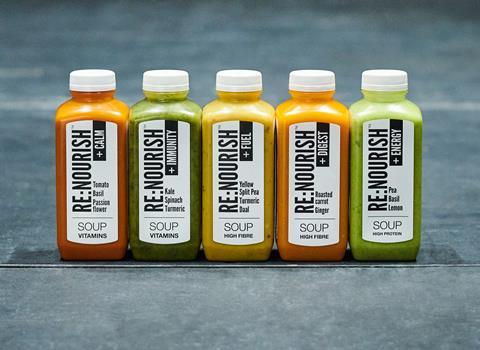 Startup on-the-go fresh soup brand Re:Nourish has secured a seven-figure growth investment to fund a push into the food-to-go market as well as expansion into Europe.
The fundraising was led by German tech and nutrition investor Döhler Ventures and a private investment angel.
The brand produces health-focused soups that can be heated and drunk straight from the bottle, dubbing itself the "world's first grab and go soup brand".
It will use the investment to increase marketing activity and spearhead growth into foodservice and major UK retailers, as well as focusing on the brand's ongoing expansion into Europe.
CEO Nicci Clark said the brand, which is currently stocked in every Waitrose store and has listings with the Co-op, Ocado and Planet Organic, is preparing to launch into foodservice through a partnership with Brakes and will soon be available via Amazon Fresh and Whole Foods Market.
It is also about to launch into Scandinavia, and has entered into discussions with potential partners in Germany and Poland.
"We've brought soup into 2020 – it needed shaking up as there has been no innovation in this sleepy category since New Covent Garden," Clark said.
"Soup has previously been a sleepy category but we're increasingly seeing young consumers are coming over to us and turning their backs on sugar-filled juices."
While the coronavirus outbreak has hit sales across the wider food-to-go market, Clark said Re:Nourish's health credentials and low-sugar profile has insulated the brand from the trend as sales have continued to rise through the crisis.
The brand has annualised sales of around £1m and that is expected to triple in 2020.
Re:Nourish has also hired Steve Parsons, previously at Plenish, B.fresh and Pukka, to take on the role as out of home and head of foodservice to help with the export of the product into Europe.
It will also see an ad campaign running at the end of September, which will primarily be digitally focused, as part of the initial campaign to increase marketing activity.
The brand was launched in March 2019, partly funded by founder and CEO Nicci Clark selling her own house to fund its early development.
Clark commented: "Now we've secured a significant investment, which is a huge milestone for the business and I very much see this as an opportunity to further grow and disrupt the category.
"With the help of Döhler Ventures and the private investment angel, we now have an exciting pipeline of activity to help expand the business."
Re:Nourish is also readying the launch of another product range targeting disrupting a further, currently unidentified, category.
Clark added: "People lead busy lives and that's why I wanted to make something that enables them to get the nutrients they need, but also fits in with their schedules running from A to B.
"While life may have slowed down over the past few months due to Covid-19, it's all the more important to have vitamin boosting foods as well as packaging that means you can avoiding using the bowls and spoons at work when you go back to the office."