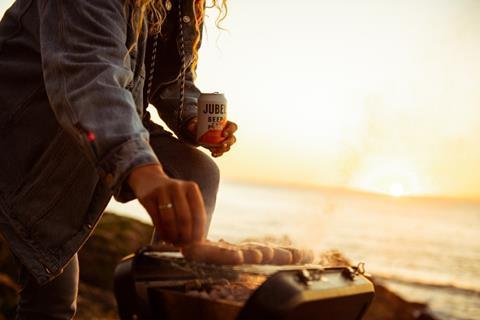 Fruit lager challenger Jubel has raised £2.7m from big-name investors as it eyes rapid growth in the emerging category.
Magners producer C&C Group, which already owns a minority stake in the brand, provided follow-on funding, while new backers in the round included serial investor Nigel Wray, former Domino's Pizza boss Stephen Hemsley and Harry Hyman, CEO of real estate investment trust Primary Health Properties.
Launched in 2018, Jubel recorded growth of 120% in the past year and was the top-selling craft single in Sainsbury's over the summer, founder Jesse Wilson told The Grocer.
Wilson said the new funding would be deployed to market the brand as distribution had grown rapidly ahead of consumer awareness.
The cash will also go towards growing the team further following the appointment of Henry Brown from Budweiser Brewing Group as head of marketing late last year, as well as supporting expansion in the on-trade, which accounts for 75% of sales.
Wilson added Jubel was bringing new shoppers to the beer, wine and spirits category as females make up 50% of the brand's consumer base versus an average of more than 80% male for craft beer.
The fruit lager category is growing in importance in supermarkets, with BrewDog releasing its own range of infused lagers last month.
"Jubel has had an incredibly strong consumer response since launch," Wilson said.
"We were hugely excited to see we had the highest repeat rate and highest weighted rate of sale in total craft singles in Sainsbury's last year, which are the two most critical metrics for long-term growth potential.
"It shows fruit lager is not a niche but is attracting a large number of highly loyal and incremental shoppers. We're pioneering a new category that is gathering very strong momentum."
C&C Group acquired a minority stake in Jubel in 2019 to drive the Cornish brewer's ambitious growth plans.
It now has a retail presence across more than 1,000 Sainsbury's stores, as well as in Waitrose and Whole Foods, with a new supermarket listing secured and ready for launch imminently.
Michael Saunders, agency brands director at C&C Group, said: "The Jubel team have done a fantastic job of growing the brand significantly since we first invested back in 2019. It was a no brainer for us to invest further and we're very excited to continue supporting the growth of this new category space between lager and fruit cider that Jubel are pioneering."
Wilson created the brand in 2017 while skiing in France. He was inspired by a tradition local to the French Alps called demi-pêche – the adding of peach syrup to a pint of lager to sweeten it. The brand name comes from a closing song at an après-ski bar called 'Jubel', which translates to "a feeling of extreme joy".
Jubel's three-strong range – which now includes elderflower and grapefruit alongside the peach flagship variety – is brewed with British hops and barley, and real fruit extracts sourced from a sustainable, organic British farm, with no plastic used in the packaging.
The business became carbon negative certified in 2020 and is working towards B-Corp status this year.