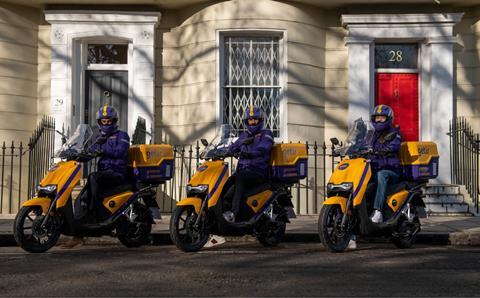 Rapid grocer Getir says it is prepared to make "necessary adjustments" should a Russian oligarch-backed investment firm from which it secured millions of dollars in the summer be sanctioned.
Getir raised $550 million in a Series D investment round from several backers in June, among them Moscow-based Winter Capital.
Winter Capital Partners is backed in part by one of the largest private investment companies in Russia, Interros. Interros is run by Vladimir Potanin, named this month as Russia's richest man in the Bloomberg Billionaires Index.
Potanin was named in the UK parliament by Margaret Hodge MP this month as a "crony of Putin" and one of several oligarchs who were "propping [Putin] up and allowing him to create havoc in Europe".
Getir told The Grocer that Winter Capital was one of 17 investors that had backed the company in recent years, but that it had only a 0.45% minority stake in the business.
"If any sanctions are imposed involving Winter Capital we will do the necessary adjustments," a spokesman for Getir said.
"In the meantime, our legal teams are evaluating the matter and we will act in the appropriate manner."
Winter Capital told The Grocer that Interros was not a limited partner and so had "no economic ownership nor ability to exercise any type of management rights". The investment firm, which has total assets under management exceeding $1bn, added that it "has always been and remains so under the sole control of the investment team".
On its website, Interros says that it is not a shareholder in Winter Capital but "acts as its major investor".
Getir said it "undoubtedly supports the people of Ukraine".
This month the company sent five truckloads of essential supplies to the Ukrainian Red Cross to help with relief efforts.
Potanin – who is worth more than $22bn – is one of several Russian oligarchs facing calls to be sanctioned in the UK. In parliament last week, Hodge named Potanin alongside nine other oligarchs of note who she said "have made their money only because they are close to the Kremlin, and they sustain their wealth only because they remain close to the Kremlin".
Potanin served as Russia's deputy prime minister in the 1990s and was architect of the Boris Yeltsin government's policy of privatising state-owned shares in companies through a loans for shares scheme. He is president of one of the world's largest metal producers, Norilsk Nickel.
Getir rival Yango Deli is owned by Kremlin-linked tech giant Yandex – and this month resisted repeated calls to speak out against Russia's invasion of Ukraine.
Russia's largest technology company – which was banned in Ukraine in 2017 due to security concerns – launched its ultra-fast delivery service in London in October last year. Yandex – which operates Russia's second-biggest search engine and ride hailing apps in several countries – is understood to have come under increased Russian government oversight and control in recent years.
Yandex CEO Arkady Volozh is named as a founder of Getir and it is understood he invested personal funds into the company in 2016. He sold all of his shares in the firm in 2019.
Rival Jiffy was founded by Russians Artur Shamalov and Vladimir Kholiaznikov, and has received funding from Moscow-based independent private equity firm Baring Vostock, which was also an early investor in Yandex. Several of Baring Vostock's leadership team were arrested in 2019 for allegedly defrauding Russian businessman Artem Avetisyan, who is an associate of Putin.