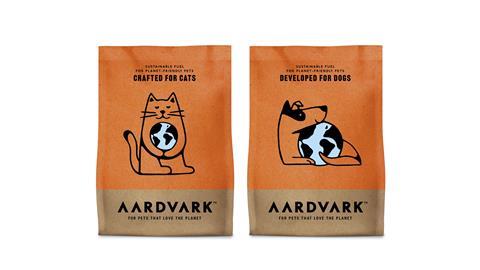 Sustainable petfood startup Aardvark has sailed past a £150k crowdfunding goal as it looks to bring insect meals for dogs and cats to a wider audience.
The business, started in 2020, has so far raised £230k from more than 340 investors on the Crowdcube platform, valuing it at £2.8m.
Aardvark sells a two-strong range of dry food, which uses black soldier fly meal as the protein source, mixed with a blend of sweet potato, pulses, fruits and herbs
Founder Hugo Walters launched the products in May 2021 after smashing an earlier £50k crowdfunding round, bringing in more than £300k from 912 backers.
It will use the latest funds to scale marketing efforts and introduce new products, including wet food and supplements.
Walters told The Grocer the business planned to raise money from institutional investors later this year to maintain growth momentum, but first wanted to allow customers a chance to support the brand and original Crowdcube backers the opportunity to follow-on.
"The environmental impact of petfood has remained an untold story for too long, but it is one which is finally starting to get the recognition it deserves," he added.
"There is a real need for sustainable and healthy pet food solutions, and this need is what brought Aardvark to the market. Our protein uses considerably less methane per kg when compared to beef and uses far less water and land area.
"We've had strong sales growth since our launch in May and acquired more than 2,000 pet parents with a DTC model selling our dry food."