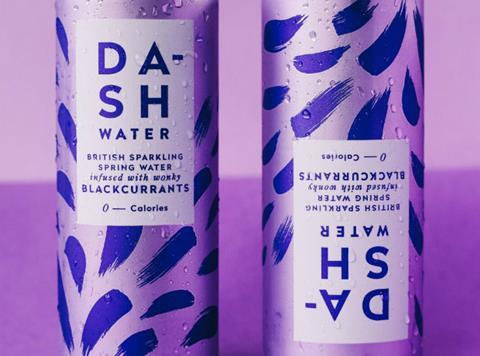 Seltzer startup Dash Water has secured £700k of funding as it prepares to roll out its latest variant and go on sale in a supermarket for the first time.
The latest financial injection – from private investors including big-name YouTuber Caspar Lee – would enable Dash to increase UK distribution and "penetrate some key European markets, a focus for 2019", said the London supplier. It is set to make its debut in the mults with two variants via Sainsbury's in early February, when it will also be in Eat chillers for the first time.
The £700k will also help facilitate the rollout of Dash's fourth variant, Blackcurrants, joining Lemon, Cucumber and Raspberry, made from fruit and vegetables rejected by grocers. The new sparkling drink – which Dash unveiled on Instagram earlier this month – is made with unwanted blackcurrants from Herefordshire and contains no calories.
Dash would now be able to "take the business to the next level", said co-founder Alex Wright, who started the business 18 months ago with Jack Scott. "It's clear that consumers are crying out for more natural, unsweetened beverages and we believe Dash Water is the perfect product to shake up the UK's dormant £15.2bn soft drinks category."
YouTuber Caspar Lee – whose channel has 7.4m subscribers – had invested an undisclosed sum in Dash after getting in touch offering to become involved with the brand, Wright said. The vlogger was "a big advocate of both tackling food waste and cutting down on sugar. He's a big fan of the drinks, and would regularly consume them on his show."
Lee said he was "excited to be part of something that has so much potential. Dash Water could ultimately change the way people look at soft drinks. The use of wonky fruit is awesome and something the younger generation will really connect with."