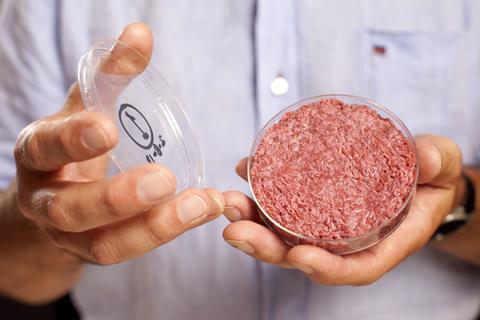 The UK's cultivated meat sector received a huge boost in backing last year as investments in meat alternative players jumped almost fivefold.
Analysis of PitchBook data by non-profit The Good Food Institute found UK cultivated meat companies enjoyed £61m of new funding in 2022 – almost five times the figure of the previous year.
The GFI highlighted a number of UK breakthroughs in the category, including Newcastle's 3D Bio-Tissues, acquired by BSF Enterprise for £1.25m last year, developing the world's first 100% cultivated steak, and Edinburgh's Roslin Technologies, which closed an £11m funding round last year, reducing the cost of cell culture media.
British companies dominated European cultivated meat investment, with companies in the rest of the region raising a combined £45m.
But the GFI said the figures illustrated the need for the UK government to deliver on pledges to invest in research and development to ensure the UK does not fall behind in the global shift to alternative protein sources.
In particular, it highlighted concerns within the sector that planned cuts to R&D tax credits for small companies will hold Britain's nascent industry back.
"The UK has the potential to become a world leader in cultivated meat and other sustainable proteins," said Linus Pardoe, UK policy manager at The Good Food Institute Europe.
"But right now, sustainable proteins are where solar panels were in the 1990s. They exist, and they're available for eco-conscious consumers who are willing to pay a premium – but they need investment to improve quality and bring down prices.
"With countries like the US beginning to invest in sustainable proteins, the UK government must urgently deliver the promised £120m of investment to keep Britain competitive and create future-proofed jobs."
This significant growth in the UK's meat alternatives sector comes amid an increase in wider sustainable protein investment across Europe.
The GFI's figures show plant-based, cultivated meat and fermentation companies across the UK and Europe raised a combined total of £510m in 2022 – nearly 24% more than the previous year.
However, global investment in sustainable proteins decelerated last year, from a record-breaking £4.1bn in 2021 to £2.3bn last year, reflecting a marked decline in wider venture capital investment.
Meanwhile, in the UK investment in sustainable protein held up well against a backdrop of investment halving across the UK's wider biotech industry, from £2.5bn in 2021 to £1.2bn in 2022.