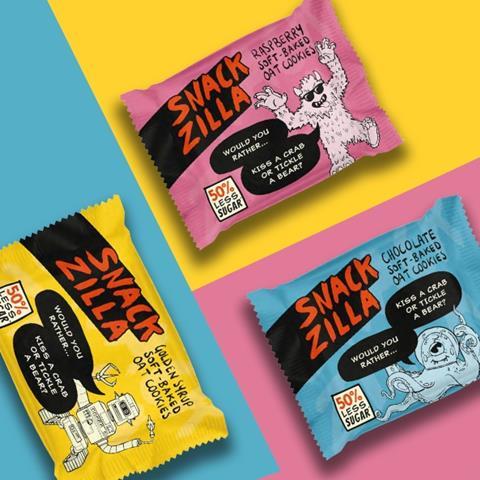 Warburtons has invested a six-figure sum in kids' healthier snacking brand Snackzilla as part of its Batch Ventures bakery innovation fund.
The £250k backing will help the London-based start-up expand its distribution across the UK.
Snackzilla is the third brand to bag investment from Warburtons' joint venture with grocery accelerator Mission Ventures, with Batch Ventures already taking minority stakes in The Artful Baker and Insane Grain in 2021.
Launched during the pandemic by Marieke Syed, Snackzilla makes a three-strong range of soft-baked oat cookies with the aim of helping parents cut back on children's sugar intake.
The cookies contain 50% less sugar than more traditional biscuit brands and are made using no artificial sweeteners, colours, flavourings or preservatives.
Snackzilla is set to launch with Ocado in the coming weeks and is in discussions for listings with other supermarkets.
"As a fast-growing, non-HFSS kids brand we are thrilled to partner with the UK's largest family-owned bakery brand that shares our vision for providing families with great quality, healthy options," Syed said.
"This support will help us build our distribution nationwide."
Warburtons chairman Jonathan Warburton added: "We were impressed by both Marieke as a founder and by her product range.
"Snackzilla is a timely addition to the market as retailers seek HFSS-compliant brands and parents hunt for healthier options of family favourites."
Batch combines investment via minority stakes in innovative baking-related SMEs with support from the teams at Mission Ventures and Warburtons.
Mission Ventures, founded by fmcg industry veterans Paddy Willis, Nigel Parrott and John Stapleton, also runs the Good Food Fund to support brands tackling childhood obesity, which also supported Snackzilla last year as it launched its brand.