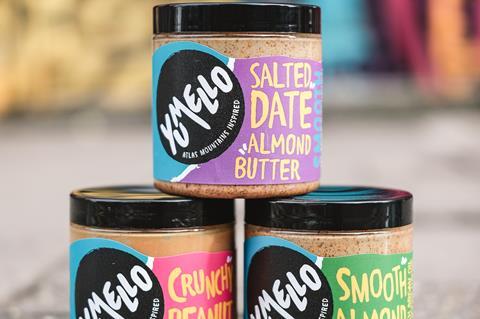 Fast-growing nut butter startup Yumello has raised £100,000 directly from its online customers in just two weeks to help fuel expansion.
The cash will be used to grow sales further and expand the marketing team, with the business targeting a further £150,000 funding from angel investors before the end of the year.
The investment follows rapid growth in the past 12 months, with sales up 562% year on year and a 1,400% increase in direct-to-consumer orders on the back of new product launches, exports and a spike in demand during the coronavirus lockdown.
Yumello, founded in 2018 by Omar El Hajji and Esther Lopez, has a range of five nut butters inspired by the recipes and ingredients of the Atlas Mountains in Morocco, including salted date peanut butter and newly launched smoky harissa peanut butter.
It has also launched a range of 'naked' single ingredient nut butters in 1kg tubs.
The products are currently stocked by Ocado and Holland & Barrett and the business is exporting to Germany, Spain, the Netherlands and Bahrain.
"As a challenger brand we always think outside of the box," El Hajji said. "We decided to directly approach our loyal customers, who have played such an important role in our success so far, and ask them if they wanted to join us on our adventure."
Lopez added: "We've been overwhelmed by their support, and as a brand that really values our community, that means a lot – our customers believe in our ethos and products and are ready to back it up."
The business is backed by Andrew Quinlan, founder and former MD at craft cider maker Orchard Pig, along with UK-based contract manufacturing partner.
Yumello is committed to sustainability and reducing the impact fmcg brands have on the planet. All the products are made in CO2-neutral facilities in the UK and are free from palm oil and refined sugar.
The business also sources argan oil, used in its smooth almond butter and crunchy peanut butter from partner co-operative Targanine in the Atlas Mountains. Targanine's network of co-ops represent more than 300 Berber women who process the argan kernels to make the oil. Argan trees also play a crucial role in the battle against desertification in this arid region.