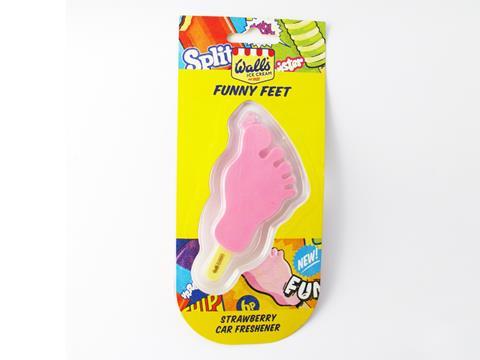 Retro ice cream brand Wall's Funny Feet - which was resurrected last year thanks to The Grocer - is being extended into the car air freshener market.

Lancashire-based Airpure International has licensed the brand from owner Unilever and launched a 3D strawberry-scented air freshener in the shape of the ice cream lolly. Available to retailers now, it carries an rsp of £2.99.

Airpure, which was established in 2008, is planning to launch other products based on Wall's lollies and has launched a microsite giving consumers the chance to win prizes and vote for the next brand to become an air freshener. The choices include Twister, Mini Milk and Split.

"We are confident bringing Funny Feet to market in this format will excite consumers who recognise the foot-shaped product from their childhood," said Unilever licensing head Julie McCleave.

The ice cream returned in multipacks last September following The Grocer's Bring Back A Brand campaign, which gave readers the chance to vote for the 'retired' fmcg brand they would most like to see return. A single-pack version went on sale this month.