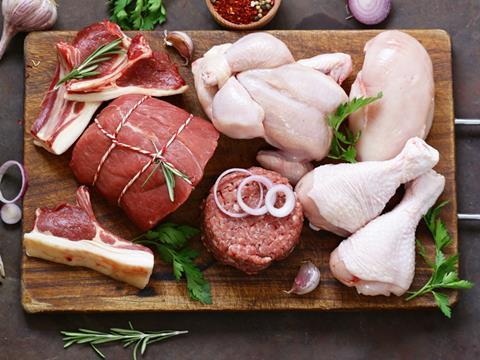 Only a radical switch in diets away from meat and towards plant-based foods can avert a global public health disaster and potentially catastrophic damage to the planet, an international group of scientists has warned.
Feeding a growing population of 10 billion people by 2050 with a healthy and sustainable diet will be impossible, without transforming eating habits, improving food production and reducing food waste, according to a new report by the Eat-Lancet Commission.
The commission, a collaboration between Scientific journal The Lancet and Eat, a Norway-based thinktank, drew on evidence from 37 food experts from 16 countries over three years for its Food Planet Health report, published today.
It called for a widespread shift towards a new 'planetary health diet' that advocates a 50% decrease in global consumption of foods such as red meat and sugar, while recommending consumption of nuts, fruits, vegetables and legumes should double.
Current meat-rich diets pushed the earth "beyond its planetary boundaries" in terms of sustainability and carbon emissions, it said. Increasing consumption of plant-based foods could "exist within planetary boundaries for food production" in areas such as use of land, nutrients, fresh water, biodiversity loss and climate change, the commission claimed.
"Unhealthy diets are the leading cause of ill-health worldwide and following the diet could avoid approximately 11 million premature deaths per year," it added.
However, the authors stressed "unprecedented global collaboration and commitment" would be needed, alongside immediate changes such as refocusing agriculture to produce varied nutrient-rich crops, and increased governance of land and ocean use.
A lack of scientific targets for a healthy diet had hindered efforts to transform the food system, they added.
"The food we eat and how we produce it determines the health of people and the planet, and we are currently getting this seriously wrong," said City University's Professor Tim Lang, who is a member of the commission.
"We need a significant overhaul, changing the global food system on a scale not seen before in ways appropriate to each country's circumstances," he added.
"While this is uncharted policy territory and these problems are not easily fixed, this goal is within reach and there are opportunities to adapt international, local and business policies. The scientific targets we have devised for a healthy, sustainable diet are an important foundation which will underpin and drive this change."
The diet the group is advocating would see the recommended daily intake of meat fall to just 14g, with 29g a day of chicken allowed, while nuts should form 50g of a daily diet, beans and legumes 75g a day, fruit at 200g a day and veg at 300g a day.
The commission's findings were welcomed by the Soil Association, which said it "shattered the myth that agro-ecological farming cannot feed the world". It urged the government to adopt its recommendations as policy "immediately".
However, the meat sector was less welcoming. The British Meat Processors Association said the report depicted livestock farming "as a static activity that's incapable of evolving to reduce its environmental impact", adding it "conveniently ignores the many initiatives and technological advancements happening right now in farming".
It also downplayed "the much-needed nutritional benefit of animal protein in the human diet and the important part it plays in feeding the world's populations".
The NFU said it was "overly simplistic to target one food group for a significant reduction in consumption", while stressing the "significant differences in farming methods and consumption patterns across the globe", and the importance in recognising Britain's livestock industry "is one of the most efficient and sustainable in the world".
Meanwhile, AHDB strategy director for beef and lamb Will Jackson described the report as "another example of well-intentioned but potentially flawed thinking on how we reduce our impact on the environment", while pointing out many meat alternative products now appearing in supermarkets were "ultra-processed, often from cheaply available materials".
He added: "Red meat contains an efficient package of essential nutrients important for the body. For this reason, government guidelines suggest we should have 70g of red meat a day. Average population intake in the UK is currently below this figure. Any suggestion that we should further reduce our intake could have unintended detrimental consequences on health."