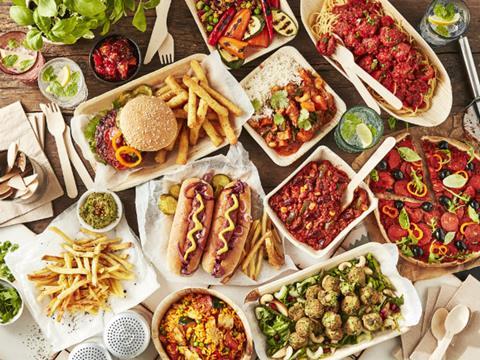 Iceland is set to expand its No Bull range of meat alternatives and install dedicated meat-free freezers in more than 900 stores following the success of its No Bull burger.

The frozen discounter confirmed plans to launch its extended range of 13 meat-free SKUs from 3 September in response to rocketing sales of meat alternatives.

It comes as the Vegan Society recorded a 987% spike in demand for plant-based foods over the past year, as 44% of UK consumers said they were willing to cut down their meat intake, according to Pulsar Social Listening.

New SKUs are set to go on sale with rsps between £2-£3.50, catering to millennial consumers, of whom a quarter had recently adopted vegetarian, vegan or flexitarian lifestyles, said Pulsar.
Additions to Iceland's plant-based range include: No Bull Jalapeño Burgers, No Chick Crispy Fillets, No Chick Chunks, No Bull Meatballs, No Bull Mince, No Bull Sausages, No Chick & No Porkies Paella, No Bull Chilli and Rice, Asian Burgers, Tofu Vegetable Burgers and Green Vegetable Balls.
"When we started spotting consumers using our No Bull burger to create their own recipes on social media, we knew we had to create a full vegan range," said Iceland's head chef Neil Nugent.

"The range incorporates ingredients entirely new to us, including tofu and wheat-based proteins, and demonstrates how tasty and diverse vegan food can be. We wanted consumers to be able to create their own dishes at home and experiment with new flavours, but also provide the convenience of ready meals."

It comes as Iceland hailed the surprise success of its No Bull burger, which had become the retailer's best selling product of the summer following its April debut. No Bull was building a cult following as UK consumers clamoured to try the burger, inspired by next-generation US alternatives such as the Beyond and Impossible Burgers.