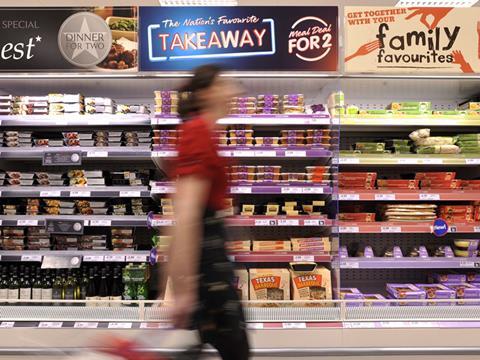 Supermarket inflation hit its highest level for 14 months in August as price rises return amid the fluctuating value of the pound ahead of the UK's scheduled departure from the EU.

While the political soap opera around Brexit shows little sign of conclusion any time soon, the effects are already being felt by the UK grocery sector.

The pound fell to below $1.20 for the first time in almost three years in the early days of September as the market feared the likelihood of a no-deal Brexit was increasing. Pressure on the pound caused a spike in inflation in the months following the 2016 Brexit vote and appears to have had a further inflationary impact in August.

Overall supermarket prices - as measured by the Grocer Price Index, collated by Edge by Ascential from more than 64,000 big four SKUs - reached its highest level since June 2018 last month, rising from 0.3% in July to 0.8% in August.

Last month marks the fourth successive month of annual price hikes and is the first time in over a year prices have risen or fallen by more than 0.5%.

Post-Brexit supermarket inflation peaked at 2.7% in November 2017 as annual price rises filtered through to the GPI from the plunge in the value of the pound in summer 2016.

However, continued high competition in the market and the annualisation of these price increases saw inflation disappear from the market over 2018 and reach year-on-year deflation of 0.4% by December 2018.

Three of the big four supermarkets are now in inflationary territory, led by Tesco, which posted average price rises of 2.2% last month - its highest inflation figure since June 2018.

Perishable goods led the inflationary trend at the UK's biggest supermarket, with dairy up 3.7%, meat, fish and poultry up 2.8% and bakery up 2.3%.

Morrisons' annual inflation increased from 0.6% in July to 0.9% in August, while Asda's yearly price increases remained at 0.6%.

Sainsbury's remained the notable outlier, posting its second month of overall deflation with prices down 0.4% in the period. It cut the price of more than 1,000 own brand lines in June to underpin a fight to win back market share.

Waitrose, not included in the overall GPI figure, posted inflation of 0.1% in August.

Just two of the GPI's 14 categories saw yearly price falls - with household goods down 0.2% and health & beauty down 0.1%.

The biggest category risers was deli (up 1.8%), followed by bakery (1.6%), meat, fish and poultry (1.3%) and dairy (1.1%).

Earlier this month Michael Gove, the Cabinet minister in charge of no-deal Brexit planning, said certain food prices may rise in the event of a no-deal exit, though he insisted there would be "no shortages of fresh food".