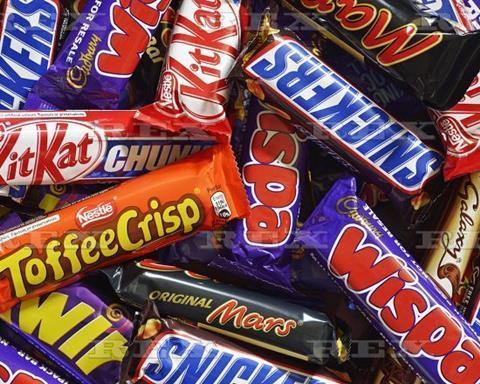 The UK's chocolate giants have cast doubt on claims they will shrink bar sizes to meet government targets on sugar.
The Sunday Times reported at the weekend that suppliers including Nestlé, Mars and Mondelez had offered to reduce bar sizes by 20% to avoid being 'named and shamed' in a series of Public Health England reports on child obesity, the first of which will be published next month.
However, suppliers told The Grocer that changes to pack size were only one of several options under consideration to meet PHE targets to cut sugar by a fifth by the end of the decade. "While re-sizing is an effective way to reduce sugar, it is certainly not the only choice," said a Nestlé spokeswoman. "Reformulation, ingredient substitution and the use of new technologies are all possibilities and, with the right investment, could deliver significant reductions."
The Kit Kat maker said last December it had developed a way to restructure sugar, meaning it could reduce the amount in confectionery by 40% while retaining taste. It would keep in close contact with PHE while it established its reduction programme, the spokeswoman added.
Cadbury owner Mondelez told The Grocer it would "consider all options" once the PHE had published its March report. "We have already been very active in this space including offering more portion control products, bringing all our single portion chocolate bars under 250kcal."
Mars admitted it would be a "challenging task" to reduce sugar in chocolate recipes while maintaining "the great tastes and textures of the brands that people love".
The company had cut saturated fat in some of its most popular bars and ensured its single-serve portions were under 250kcal, a spokesman said. As well as "examining portion size", the industry needed to look at "making product labelling clearer and marketing responsibly".