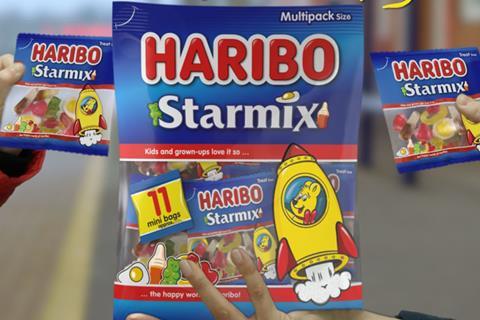 A group of the UK's biggest suppliers have threatened to suspend co-operation with the government's obesity strategy amid anger over the "astonishing" timing of proposals for a total ban on HFSS advertising online.
Suppliers including Haribo, Mars Wrigley UK, Britvic, Mondelez International, PepsiCo UK & Ireland, General Mills and Kellogg's UK & Ireland have written to the prime minister saying they will not engage fully with the proposals because they are too busy "feeding the nation" and dealing with the impact of the coronavirus and Brexit.
The move is a repeat of the tactics the industry used in February 2019 when trade bodies wrote to Michael Gove to withdraw co-operation from a series of government consultations, including plans on health, because of the threat of a no-deal Brexit .
The government launched a six-week consultation on its plans earlier this month.
The letter to Boris Johnson, backed by bodies including the FDF, UK Hospitality, ISBA and the Advertising Association, says the advertising ban would risk major economic harm to companies already facing huge uncertainty and says the companies will not be able to afford the resources to respond in time to the government's deadline.
"The sheer volume of critical work facing food companies in the next few weeks means that at this time we simply cannot give this consultation the resource it deserves and demands," says the letter.
"Something will have to give. The timing of this consultation is frankly astonishing, especially as the government's stated ambition is to introduce these proposed advertising restrictions at the end of 2022. There is no reason to introduce this consultation and demand submission responses with such haste while effectively limiting our opportunity to respond, especially before the end of December."
The letter claims the proposals for a complete ban are "disproportionate" and would have a massive impact on companies' ability to advertise their products.
It calls for talks to also consider an alternative approach, after the crisis of the pandemic and Brexit has passed.
"Consumers frequently visit brand websites or engage via social media to find out more about products, especially when new healthier items are launched that have been reformulated," adds the letter.
"We have been shocked that the proposed advertising restrictions will police how producers describe their products on their own websites and social media channels, despite previous assurances that the government had no interest in doing this. Furthermore, these restrictions disproportionately impact SMEs, who make up 96% of our industry."
However, campaign groups accused suppliers of hypocrisy.
"For companies like Haribo and Mondelez to says they are too busy keeping the nation fed to respond to the government's plans to tackle childhood obesity is a bit rich," said one campaign source.
Campaigners claim companies have exploited loopholes in existing regulation to target children with advertising for HFSS products.