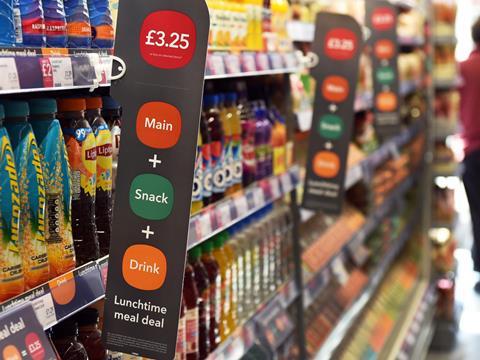 The government has confirmed plans to shelve restrictions on HFSS multibuy deals and advertising, blaming the "unprecedented" financial pressures facing families struggling to afford food.
The move has been widely welcomed by trade bodies, who said they were glad ministers had listened to the industry's calls for a delay.
However, it has met a furious response from health campaigners, amid continued speculation that the delayed moves may never see the light of day.
On Saturday public health minister Maggie Throup confirmed restrictions banning multibuy deals on HFSS products – including buy one get one free, three for two, and restrictions on free refills for soft drinks – would be delayed for a year.
Restrictions banning HFSS ads on TV before 9pm and paid-for adverts online will also be paused for a year, meaning they come into force January 2024.
Throup said there was a "growing recognition that the industry needs more time to prepare" for the ad ban.
However, restrictions on the placement of HFSS products in prominent locations in stores will still go ahead in October as planned, the government said, meaning they can no longer be promoted in key locations such as checkouts, store entrances and aisle ends, as well as their online equivalents.
"We're committed to doing everything we can to help people live healthier lives," said Throup. "Pausing restrictions on deals like buy one get one free will allow us to understand its impact on consumers in light of an unprecedented global economic situation."
Media, data and digital minister Julia Lopez added: "We have listened to the concerns which have been raised and will not be bringing in restrictions on junk food advertising until confident that the time is right."
Reacting to the announcement, FDF chief scientific officer Kate Halliwell said the government had made a sensible decision.
"We welcome the UK government's pragmatism during the cost of living crisis," she said. "At a time when both families and our manufacturers are struggling with high inflation, it makes sense to delay the restrictions on volume promotions for everyday food and drink products, including breakfast cereals, ready meals and yoghurts, as it risks further stretching already pressed household budgets.
"We also welcome the delay to the start of advertising restrictions, given the time it will take our industry to prepare for the change in law."
Advertising Association public affairs director Sue Eustace said: "The announcement of a 12-month delay is a sensible decision at this time to allow the industry to work through with government the most successful way to tackle obesity.
"The industry is committed to tackling this issue in a way that recognises the cost of living crisis and pressures that everybody is facing currently.
"We know from the evidence that an HFSS ad ban will not be the most effective route, and we welcome the opportunity to look again at this legislation and find the best way to a solution."
However, health campaigners have slammed the decision to delay, and expressed growing fears that the delay will mean the measures are never brought into force.
"This is devastating news and a real step back for children's health," said Rebecca Sunter, programme director of the Childhood Obesity programme at Impact on Urban Health.
"Families face a tidal wave of junk food promotions every day and our high streets are flooded with unhealthy options. In the middle of a cost of living crisis, we need firm government commitments to make nutritious food affordable and accessible for everybody, no matter where they live."
ACS CEO James Lowman said: "The government's insistence on pushing ahead with costly and confusing regulations at a time when consumers and retailers are facing significant financial pressure is nothing short of astonishing. While everyone else is trying to navigate the worst cost of living and cost of business crisis in memory, the government is regulating to send officials round to shops with tape measures to make sure yoghurt and pizza aren't displayed too close to the door or on the end of an aisle."
Despite the backtrack, some industry bodies urged the government to go even further.
"Going ahead with the location restrictions in October this year, costing thousands of pounds per store, will have a huge impact on thousands of small businesses that are already struggling to make ends meet," said Lowman.
"Retailers cannot absorb these costs, they will ultimately have to pass them onto their customers during the same month that everyone's energy costs are set to skyrocket. We once again urge the government to rethink these regulations, and to properly consider the implications for retailers and consumers."
The ACS says the remaining measures will still cost convenience store retailers an estimated £13,000 per store, with supermarkets facing much higher implementation costs.