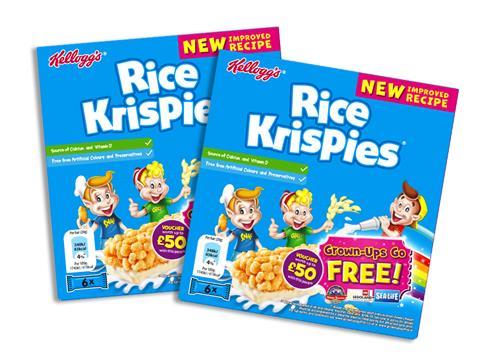 Kellogg's has unveiled a major cut in sugar across its three-strong cereal and milk bar range, reducing it by an average of 21% per variant.
Reformulation has seen the Coco Pops bars trimmed by 24%, from 42g of sugar per 100g to 32g, while Frosties and Rice Krispies bars have both seen a 19% cut from 40g to 32.5g.
At the same time, the supplier has added vitamin D and ramped up fibre from an average of 1.3g per 100g to 3.8g. The extra nutrients came in response to the average British child's vitamin D intake being "four times below the recommended level", said Kellogg's snacks marketing director Clare Furlonger. Kids were also getting 30% less fibre than necessary.
The changes to the cereal and milk bar lineup were a "key step" in responding to consumers' demands for healthier snacks their children, added Furlonger. Kellogg's had set out to balance the demands of parents and health campaigners with the need for a "quality product".
Available now with no change to pack weight or rsp, the revamped trio of cereal bars comes in the closing months of Kellogg's six-year initiative to remove 2,000 tonnes of sugar from its cereals and snacks by the end of 2017.
The programme, which reduced sugar in Coco Pops cereal in February, was "going well" and would "absolutely" be on target, Furlonger added. There would also be "ongoing renovation and innovation over the long-term to take out the things people don't want and add nutrition-positives".