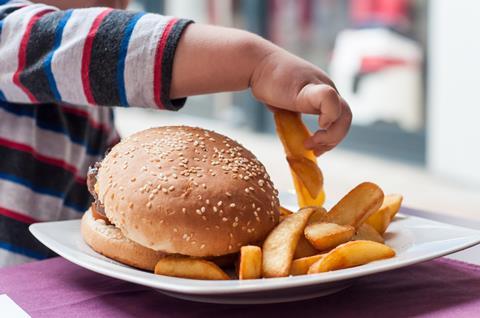 Salt levels in out-of-home children's meals have got worse despite Public Health England's attempts to persuade companies to reformulate, according to a new survey.

The study by Action on Salt found 37% of 351 meals surveyed had at least 2g of salt per portion, the maximum recommended daily intake for one to three-year-olds.

In a similar study in 2015, 29% of meals studied had such high salt levels.

AoS said the findings showed a "complete lack of commitment" from the sector to reducing salt in menus.

It found 41% of dishes aimed at kids contained salt levels higher than PHE's 2017 targets, while some had almost as much salt as an adult's daily recommended limit.

The worst offender for salt content was TGI Fridays' chicken burger with crispy fries and baked beans, which contained what AoS called an "astonishing" 5.3g of salt per portion.
Wetherspoon's fish, chips & baked beans contained 4.9g, while Pizza Hut's Big Heroes chicken & cheese wrap with fries weighed in at more than 4g per serving.

The study comes amid continuing controversy over whether the OOH sector has done enough to respond to calls for reformulation, with campaigners, retail leaders and some suppliers calling for companies to face regulation.

The government is due to publish new targets for salt reduction by Easter, with supermarkets and suppliers also having come under fire for missing previous targets.

"The secretary of state for health has promised long-awaited new voluntary salt reduction plans in his green paper and they can't come soon enough," said AoS chairman Professor Graham MacGregor.

"Reducing salt is a shared responsibility between the food industry, individuals and the government and is the most cost-effective measure to reduce the number of people dying or suffering from entirely unnecessary strokes and heart disease."