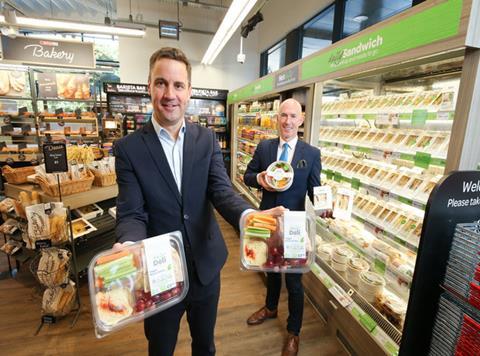 Henderson Wholesale has unveiled a revamped food-to-go range which includes vegan and vegetarian options.

Developed by Northern Irish food manufacturer Around Noon, the 60-strong Daily Deli selection comprises flatbread options that have fewer than 300 calories, meze platters, granola and fruit pots as well as a selection of sandwiches and wraps.

Breakfast and hot food items have also been available all day as part of the product refresh, which has been launched in more than 100 Spar and Eurospar stores across Northern Ireland in redesigned packaging.
"We strive to make sure everything the shopper could want is available under one roof, which is why the ranges produced by Around Noon have grown significantly over the past five years," said Henderson Wholesale food development manager Gareth McAnlis.

"This also fits into a wider food-to-go strategy where the traditional 'meal deal' has been reworked to include breakfast items alongside the growth of the Barista Bar hot drinks offering - all aimed to minimise the need for split missions."

Around Noon sales director, Philip Morgan, said the business had developed a fantastic working relationship with Henderson's fresh team over the last five years and currently supplied over 60 lines to its Spar and Eurospar stores daily, in addition to seasonal ranges at least twice per year.

"We're very proud of the new Daily Deli range, which has been a significant project including rebranding, introducing new products and creating new packaging. We work hard to help our customers move with and stay ahead of changing consumer trends and the new Daily Deli range is part of that process."