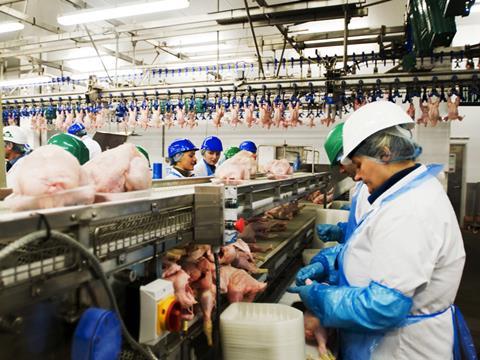 Three factories and nine hundred jobs are facing the axe as part of a major restructure of 2 Sisters Food Group's poultry business.
The poultry giant has faced a tumultuous six months after a Guardian and ITV investigation uncovered a series of alleged food safety violations at it factory in West Bromwich. The business said this evening it planned to close three loss-making sites in its poultry supply chain.
The Ranjit Singh-owned business has launched a consultation to close its Cambuslang factory in Scotland, with up to 450 jobs under threat, in addition to its plant in Smethwick with 350 jobs at risk, and Wolverhampton, with 100 facing the axe.
But the supplier would also create up to 1,000 new roles in its poultry supply chain, it added, with up to 400 new roles in the West Bromwich site highlighted in The Guardian /ITV investigation, plus 300 at its Willand, Devon factory, 250 at Coupar Angus in Scotland, 35 in Llangefni, North Wales and 30 in Scunthorpe.
The announcement comes less than a month after 2 Sisters sold its Goodfella's pizza business to Birds Eye owner Nomad Foods in a £200m deal, and follows a pledge by Singh to the Commons Efra Committee that it was time to "build a better business… it's time to change and I have to change".
Last month also saw Singh rebuked by Efra after 2 Sisters sent boxes of biscuits to MPs on the committee, which the supplier insisted was a "goodwill gesture" following Singh's recent appearance to give evidence over the scandal at West Bromwich.
However, it has also committed to installing CCTV at all its cutting plats, and announced plans to voluntarily publish detail of all factory audits on its estate since the scandal erupted at the end of September.
Detail of an independent investigation launched by 2 Sisters in the wake of the scandal is expected to be presented to the Efra Committee within the next few weeks, The Grocer understands.
In a statement, 2 Sisters said: "As we continue to build a better business, we are simplifying how we work and investing in the areas that can make the most positive difference to our UK poultry operations.
"This means that we will be creating up to 1,000 new roles within the poultry supply chain.
However, we do have areas of significant challenge and regrettably 900 roles will be at risk at three sites loss-making sites which we propose to close.
"Our focus now will be to support all affected colleagues and explore all alternative options available to us before making any final decisions."
It comes as the meat industry faces levels of scrutiny last seen during the horsegate scandal five years ago, with the FSA investigating a major relabelling scandal at meat processor Russell Hume.
The regulator also announced a major recall of meat products by online retailer Muscle Food this evening (see more here) after an unannounced inspection at its meat supplier - and sister company - DB Foods revealed concerns about use-by labelling.