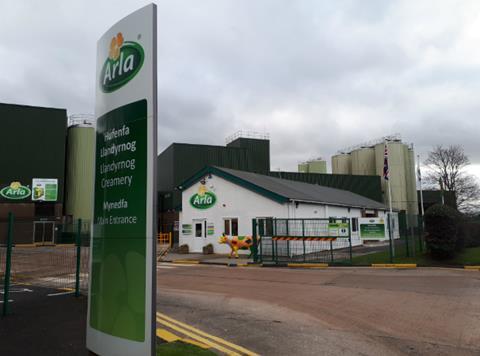 Arla is to stop manufacturing cheese in Wales as part of a strategic review of its cheesemaking division, with up to 154 jobs under threat.

Subject to a staff consultation, the dairy co-op is to end cheddar production at its Llandyrnog creamery in Denbighshire, with the loss of 97 jobs. Arla is planning to shift manufacturing to its creameries in Taw Valley, Devon and Lockerbie, south-west Scotland.

A further 57 jobs are also under threat at its Malpas and Lockerbie packing operations as it moves all cheddar packing to its Oswestry facility.

Arla said the proposals - part of its 'Calcium' restructuring programme - would create a reorganised cheese business that would "focus on meeting existing and new customer requirements as well as support its fast-growing brand and channel strategies".

A new logistics network is planned as part of the reorganisation, allowing it to move volume around more effectively.

The supplier this week announced separate plans to cut 195 jobs from global group corporate roles, with 15 jobs under threat at its Leeds HQ.

The Llandyrnog site first opened in 1921, and was acquired by Arla as part of its merger with Milk Link in 2012.

It currently manufactures cheddar for own label and foodservice, in addition to whey protein, and is expected to close by the end of the year. However, Arla stressed a skeleton staff would stay on as it explored a "substantial opportunity" to diversify production at the site, though it declined to comment further on its plans.

Under the proposals, the dairy co-op did not anticipate any impact on its supply of Welsh milk and would "endeavour to produce its current portfolio of cheeses dependent on demand from its retail or foodservice customers".

Arla Foods UK MD Tomas Pietrangeli said: "This proposal enables us to not only drive efficiencies but also retain ample capacity to better meet the evolving needs of our customers in areas such as retail, foodservice and export. It's also critical that we retain our approach to innovation and never compromise quality in our cheese business, and we feel these steps are the best to take to ensure our sustainability."

The 'Calcium' efficiency drive was announced by Arla in April in a bid to make €400m in cost savings over the next three years. It cited commodity price rises and Brexit-linked currency volatility as the main driver of the initiative, with savings taking place across "all areas of the company".