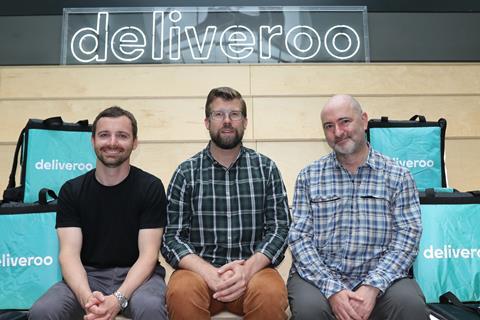 Deliveroo has announced plans to move its technology teams into a new headquarters in Edinburgh and create 70 technical roles this year.
Engineers currently working at the city's tech incubator CodeBase – many of whom previously worked for software development startup Cultivate, which Deliveroo acquired in August – will move into the new premises in April. They will later be joined by technical teams focused on consumers, riders and restaurants.
The 70 new roles will be made up of software engineers, product managers, data scientists and designers.
The focus of work at the Scotland hub, the company's first technology office outside London, will be to further develop Deliveroo's payment systems, as the company seeks to become the "financial growth partner of choice for its restaurants and riders".
"These new products will improve rider experience and help restaurants grow their businesses, with a particular focus on small businesses," said Dan Winn, the company's chief technology officer.
It is understood the product suite will include ways Deliveroo can offer financial support to restaurants to manage their cashflow, and improved data sharing so they can more easily see how much they are earning through the platform.
The hub will also work towards giving riders more "flexible access" to their earnings, building on features like Cash Out, which allows riders to be paid the day after a shift.
"Edinburgh is one of the UK's fastest-growing tech hubs, with access to an excellent talent pool of high-skilled people and university graduates," Winn said. "We are excited to build on Cultivate's expertise to develop cutting-edge products and services from our new office."
The recruitment plan, upgraded from the 50 roles over three years Deliveroo announced it would create last year, was welcomed by Scottish government digital economy minister Kate Forbes.
"This brings exciting employment and digital skills opportunities, helping us achieve our ambition for Scotland to be a world-class digital nation," she said.
Deliveroo's corporate functions will continue to operate from the company's existing offices in London.