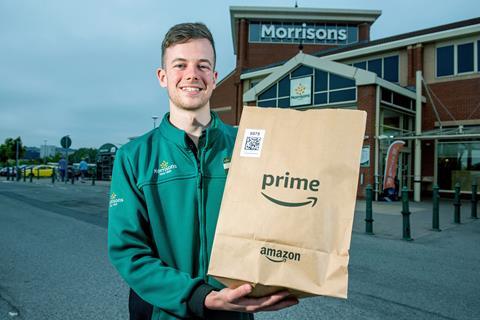 Morrisons has announced it is creating more than 1,000 permanent jobs to fulfil a boom in orders for its expanding services on Amazon.co.uk and Amazon Prime Now.
It said the staff would help pick and pack customer orders from over 50 stores, covering most major cities and many towns in the UK.
The new staff will serve customers on the Morrisons on Amazon site (run by Amazon) and the Morrisons store on Prime Now.
The move comes amid a surge in online shopping, which has seen the major supermarkets rapidly expand their dotcom services.
Online shopping has gone from around 7% of the total UK grocery market at the start of the crisis to an estimated 15%.
Read more:
This week, Sainsbury's said it planned to offer 700,000 weekly slots by the end of October, double what it offered at the start of the pandemic.
Last month Morrisons revealed it has seen online and home delivery order capacity increase fivefold since the start of the pandemic, including its Morrisons.com operation, food boxes, and 'Morrisons on Amazon' service.
In May, Morrisons announced it was more than doubling the number of stores serving the same-day delivery Amazon Prime Now service.
"At Morrisons, we're doing everything we can to ensure everyone can order our great-value food and have it delivered to their doorstep," said Hannah Horsfall, head of Amazon at Morrisons.
"We're looking for team players, with good customer service skills that can play their full part in helping to feed the nation."