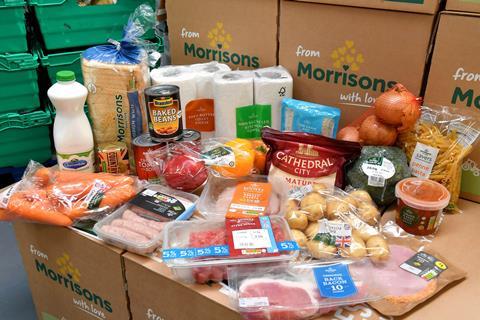 Morrisons is ramping up its delivery of food boxes, after revealing there had been a huge spike in demand since new coronavirus restrictions were announced.
It said with demand for online delivery slots increasing across the retail sector, it wanted to provide alternatives for customers who did not want to visit supermarkets.
The retailer reported demand for food boxes had increased by 56% in the past week.
New measures include customers being able to opt for a weekly, fortnightly or monthly food box delivery so they can receive a regular and predictable home delivery. It is offering a 5% discount for those who opt for the service with a 20% discount on the first shop. Morrisons has also set aside a facility in Wakefield to make food boxes.
All boxes can be ordered online and delivered to customers' doors the next day by DPD.
"Customers use our food box service to get fresh food and cupboard essentials delivered to their doorstep quickly," said Aidan Buckley, director of food to order at the supermarket. "We are making the service simpler and even better value to ensure everyone can get access to affordable food at this difficult time."