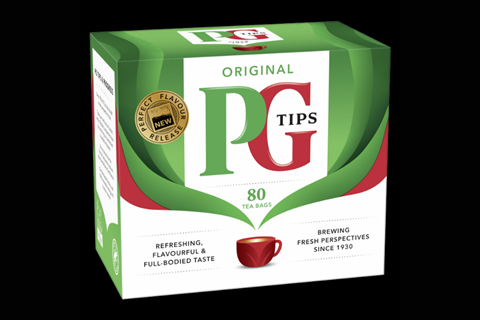 Lipton Teas & Infusions is to relaunch its PG Tips brand with a new look, blend and bag developed to meet consumers' "quick-brewing habits".
The newly created square teabag created a "quicker infusion" while still being "full of flavour", the brand claimed.
It was developed in response to the fact that 85% of tea drinkers brew their cuppa for less than a minute, Lipton said.
"PG Tips' new blend and perfectly square and biodegradable teabags are designed to meet consumers' quick-brewing habits, with 85% of tea drinkers brewing their cuppa for less than one minute," Lipton said.
"This means consumers can expect a quicker infusion, delivering a brighter, smoother, more consistent cup of tea which is full of flavour," Lipton said.
The innovation comes as Lipton prepares to relaunch PG Tips' Original, Gold and Decaf SKUs in the coming weeks.
The relaunch is being supported with a multimillion-pound marketing campaign set to go live in the first half of 2024.
The company is planning a slew of in-store shopper activations, including front of store pallets, gondola end displays and shelf-talkers, as well as out-of-home and online communications.
The new packaging for the SKUs has no plastic outer wrap, is 33% more compact and the boxes can be recycled at kerbside.
Black tea consumption is on the wane in the UK as consumers seek out alternative brews and other hot beverages.
Value sales of everyday teabags have fallen in retail by 6% to £340.8m [Kantar 52 w/e June 2022]. The decline means standard black tea has a minority share of the tea market for the first time, down from 50.4% to 49.7%.
PG Tips sales, meanwhile, are down 7.2% to £82.2m [NIQ 52 w/e 18 June 2022].
The new PG Tips blend would aim to "rekindle Britain's profound affection for tea", the brand's general manager for UK & Ireland Liam McNamara said.
"We are confident that our reformulated blends, coupled with the introduction of the market's only square teabags, will provide consumers with PG Tips' most exceptional tea experience to date," he added.