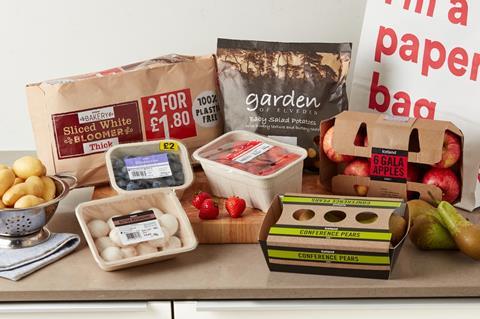 Iceland has launched its latest push to cut out plastic, with seven claimed "packaging firsts".
The move sees seven lines gain "plastic-free or heavily reduced" packaging. They include a standard loaf and potatoes, each of which has gained new paper packaging.
Other lines gaining new packaging are apples, pears, strawberries, blueberries and mushrooms.
Iceland has been trialling new packaging solutions that eliminate or drastically reduce plastic since the start of year, after MD Richard Walker revealed a single-store loose produce trial had knocked 30% off sales. In January, Iceland launched 38 lines with new packaging.
Iceland said today that rolled out across all subcategories and stores, the new packaging solutions would save over 350 tonnes of plastic per year.
The latest lines would first be trialled in "discrete groups of different stores and for different time periods, helping Iceland monitor its customer responses from across the country", the supermarket said.
Walker said: "These new, innovative packaging trials represent an important step in our journey to completely remove plastic from our own label ranges by the end of 2023. If these trials are successful, the impact on plastic reduction across our almost 1,000 stores will be huge.
"We recently called on big businesses to join us in publishing their full plastic footprint, to support our call for enhanced transparency. Now we are asking our customers to try these plastic-free alternatives, as we continue to turn down our tap on plastic production."