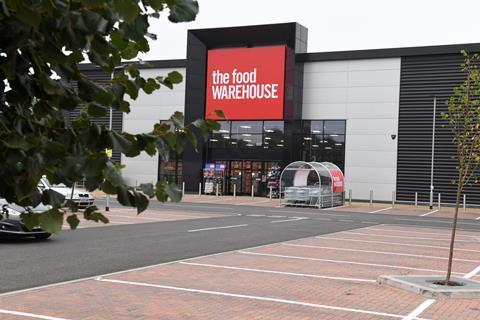 The Food Warehouse is growing its trade offering to help hospitality businesses in recovery mode after the pandemic, it has said.
Anthony Howard, the Iceland sub-brand's business development manager, said it was offering more bespoke deals with no membership fees.
Serving trade customers as well as families has always been a feature of the five-year-old chain's model, but Howard this week appealed directly to the former.
"We're continuing to shape and grow the trade arm of The Food Warehouse, offering customers a bespoke offering with big deals and savings at a cut price without the need for a membership and minimum spend," he said.
"The Food Warehouse is an innovative store format, responding to the changing needs of small business owners, especially during this time offering an ideal format for those repairing their businesses and making up for lost time due to the pandemic."
He spoke as The Food Warehouse pledged to support a local hospitality business with every new store opening. The chain marked the opening of its latest branch in Lichfield this week by donating £250 worth of shopping to charities chosen by the Laughing Duck café in Fradley, Burton-on-Trent, including the St Giles Hospice and Macmillan Coffee Morning.
Announcing the "programme of support for hospitality", a Food Warehouse spokeswoman said: "The Food Warehouse caters to smaller businesses who may not require the services of the bigger wholesalers with the flexibility of deliveries when they choose, without the need to book in weekly slots unlike traditional wholesalers."
The Food Warehouse has more than 120 stores across the UK, including seven opened this year. Twenty new stores are planned over the financial year to March 2021.
The stores are typically between 10,000 and 15,000 sq ft, about twice the size of an Iceland.