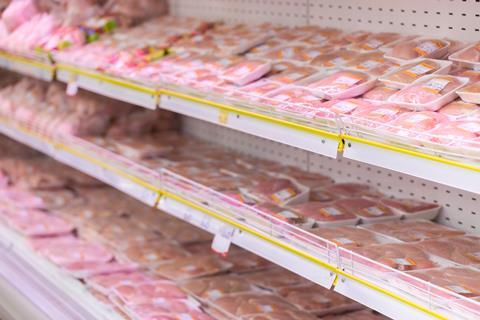 The end of cheap chicken? Depends how far you go back. After Asda launched a notorious £2 chicken deal in 2007, to spark a chicken war, the food commodity price hikes of 2008 and 2012 seemed to put paid to paltry poultry prices. Yet over time they fell back again. Asda's chicken worked out at £1.29/kg. Today, on a quick internet trawl, I found whole chicken at Aldi at £1.63/kg, and in this week's Grocer 33 a large chicken at Asda was £1.81/kg. So the price of chicken is barely running in line with inflation. And if it hasn't fallen, it's certainly flatlined.
Now, in addition to soaring feed, there's a whole host of other costs to contend with – including transport, labour, CO2, packaging etc. And it's difficult to see how the retailers, as powerful as they are, will be able to put up a fight. With a shortage of supply, as Ronald Kers said, suppliers will opt for the retailers who are prepared to up their prices. As he told The Grocer this week: "Those customers that support us are the ones that we are going to be selling to. For those that don't; they'll need to find it from somewhere else, and there is not enough chicken on the market."
In other words, to the question 'why did the chicken cross the road?' the answer is: 'because the shop on the other side paid more'.
So I have no concern for power players like Ranjit Boparan, the 2 Sisters 'Chicken King'. He has scale and power. He's also secured extra visas. And while CO2 prices are 500% higher, new supply is coming on stream. And crucially, he can stop the trucks, because there's a shortage of supply in his sector.
It's the smaller players, in categories where the supply-demand equation is more balanced, you have to worry about. The recent GCA conference focused on forensic auditing and on further curbing retrospective abuse. That's great. But the Adjudicator's bigger challenge is the future. Inflation is finally coming through, up to 1.7% in this week's Kantar figures, as the delayed impact from the return of promotions unwinds. In markets like foodservice where promotions are not such a factor, inflation is even higher. And no one, not even the Bank of England, is denying now that inflation will be a lot higher and last a lot longer than its original lowball forecast.
In this environment, operators will find it hard to manage both soaring costs and delivery shortages. As much as suppliers have apologised to customers for ongoing availability issues, some supply issues have also been caused by the customers themselves, offering HGV drivers joining fee bonuses and higher pay to secure deliveries from DCs to shops, but thus constraining supplies into the DCs themselves.
But as the Adjudicator also acknowledged at the conference, suppliers also face "a new breed of buyers" who have never experienced conditions like this. The profile of buyers these days is younger, but they hold great power. It's going to make negotiations heated, unpredictable and potentially counterproductive.
And the stakes are high. In theory buyers may well want to accept price hikes from suppliers. If they pass on a 5% price hike to the consumer, the cash margin increases. Or they may say no to a price hike but put prices up anyway. We've also seen retailers hiking prices on less conspicuous lines. The retailers that win will be the ones that put prices up in an intelligent, thoughtful and fair way, with a focus not on cash margin but on keeping the trucks running and shoppers happy.