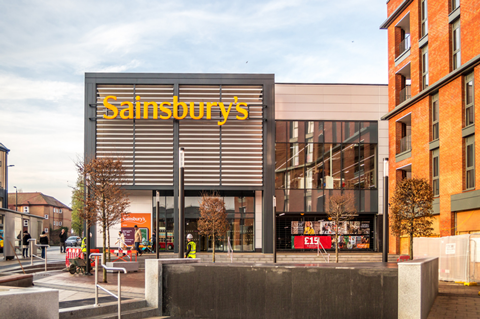 It's only seven years since Tesco's then boss was telling the market it was "impossible" to win against the likes of Aldi and Lidl. "Discounters will never allow you to be cheaper," said Phil Clarke.
A lot has changed since then. Tesco launched its Aldi Price Match last March. It's been so successful Sainsbury's followed suit this week. When even Sainsbury's is taking a tilt at Aldi on price you know the market has changed a lot.
The promise is on fewer items: 250 vs 500 at Tesco. But it's nevertheless revealing. It tells us Aldi is weaker than at any time since 2009. The Christmas results were bad enough. But its latest four-week sales, according to Kantar, were only up 3.8%.
There are many reasons for this: to varying degrees, the return of the big weekly shop; the growth of home cooking; the cramped footprints of its stores vs the wide aisles of the big four superstores and hypermarkets; the lack of online capabilities and distraction of click & collect; the slowdown of its store opening programme (due to the pandemic), but also cannibalisation of same store sales as the discounter has saturated towns. And yes: there's Tesco's Aldi Price Match. Plus, not only are Iceland, B&M and Poundland coming further to the fore – Lidl has also been kicking lumps out of it with punchy promos. Not that Lidl can rest on its laurels: after a strong Christmas the latest four-week sales were only 5% up.
Sainsbury's move is above all revealing for what it says about Sainsbury's. Following the launch of its discounter brands, it's a further acknowledgment that Tesco's strategy is working.
It says new boss Simon Roberts – and new food commercial director Rhian Bartlett – won't be switching back to a multibuy strategy, but gives Sainsbury's a shiny new hat on which to hang its value credentials in the recession: a commitment to medium-low pricing, selling commodities on the cheap, buying the right to make a margin on luxury and innovation .
Who knows if it will work. It's only 250 items: c1% of its range (12.5% of Aldi's). And Aldi has deeper pockets and an inherently more efficient business model. But the pandemic has thrown the economics of modern grocery on its head. Sainsbury's sales are up 12.2%!
Almost more surprising, however, is that Aldi has been strangely neutered on the marketing front by Tesco's Price Match. As Clarke said, the discounters will never allow you to be cheaper. But its response almost feels like permission.