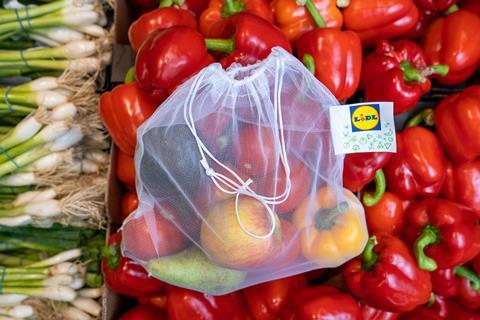 Lidl is claiming a UK supermarket first in selling reusable bags for loose fruit and veg.
The new bags are on sale in Lidl stores nationwide from today as an alternative option to single-use plastic fruit & veg bags.
They fasten with a drawstring and are made from polyester. The price is 69p for a pack of two.
Lidl said it was a step towards making all its own-brand packaging widely recyclable, reusable, refillable or renewable by 2025.
The bags were an "affordable, reusable alternative" to single-use ones, and "designed to give customers a sustainable choice and reduce plastic use and waste in the long term", according to the discounter.
"Ever since we opened our doors in Great Britain 25 years ago, we have been strongly committed to finding ways to reduce our plastic waste," said Georgina Hall, Lidl GB head of corporate responsibility. "We've made changes – big and small – over the years to help contribute to this. Today's announcement is the next step, and one which we hope will help customers shift to a truly reusable option."