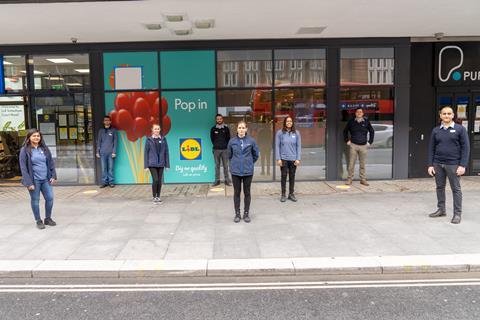 Lidl has opened its most central London store yet, part of a £500m expansion plan in the capital.

The new 15,000 sq ft store opened today on Tottenham Court Road, next to University College Hospital. It will give free snacks and fruit & veg to NHS staff at the hospital, Lidl said.

It stocks Lidl's full range and will open from 7am to 10pm on Monday to Saturday and 11am to 5pm on Sundays.

"We know how important our role is at this time in helping keep the nation fed," said Lidl GB CEO Christian Härtnagel. "Through the opening of this new store on Tottenham Court Road, we're proud that we can provide the local community and frontline workers at University College Hospital with access to the essential products they need, at affordable prices.

"We would like to take the opportunity to say a huge thank you to all frontline workers for their efforts and commitment, including our incredible team working at the new store, who join the rest of our workforce in doing a truly amazing job during these extremely challenging times."

Lidl is planning over 40 new London stores by 2025, taking the total inside the M25 to around 130, and creating 1,500 new jobs. The plans also include its new south west London head office in Tolworth, due to open next year, along with a new distribution centre in Luton and the expansion of its Belvedere DC.

Aldi is also pursuing expansion in London. In its latest full-year results in September, CEO Giles Hurley said the London estate would more than double by the end of 2025, from 45 to 100, including the expansion of its smaller Aldi Local format.

The new Tottenham Court Road Lidl is giving surplus food to local charity Rhythms of Life to support the homeless.

It follows Lidl's recent announcement of customer food donation boxes in stores nationwide, allowing customers to give to local community food banks.