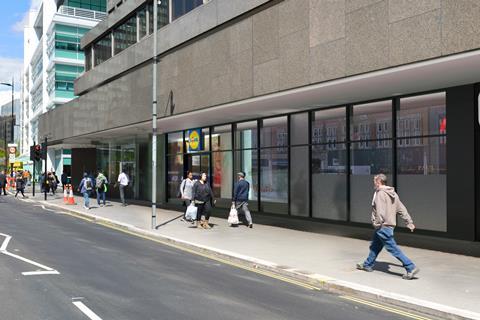 Lidl is to open its first central London store as part of a £500m expansion plan in the capital.

The plans will see the discounter open 40 new stores across London, including its most central yet, a 14,000 sq ft branch on Tottenham Court Road.

The moves will create 1,500 jobs, according to Lidl, and see stores in Alperton, East Acton, Hackbridge and Watford among those added to the 88 branches already inside the M25.

The Tottenham Court Road store will be near Warren Street tube station in Fitzrovia, and feature Lidl's full range including "middle aisle" general merchandise offers, plus a bakery. It's expected to open by summer 2020.

The £500m investment will also pay for Lidl's new south west London head office in Tolworth, construction of which began last autumn. The site is five miles from Lidl's existing head office in Wimbledon and will accommodate 800 staff in 250,000 sq ft of office space.

The Grocer revealed in April that Lidl had cut its minimum store size requirement for central London from 10,000 sq ft to 7,000 sq ft.

"It's coming up to 25 years since we first launched in London, and in that time we've grown to almost 90 stores, employing more than 5,000 people," said Lidl GB CEO Christian Härtnagel.

"London is at the heart of our growth plans across Great Britain, and we are proud to be in a position where we're continuing to create new jobs. Our £500m investment reflects the scale of opportunity we have to bring our quality produce to even more of the capital's communities, at prices that make it affordable to everyone."

Lidl GB chief development officer Ingo Fischer said: "We are incredibly excited about our plans to open a new Lidl store on Tottenham Court Road, right in the heart of London. This comes as a direct result of continued customer demand for the Lidl offering across the capital, and joins a pipeline of new stores planned for the near future. These will be supported by our investment of our operations and infrastructure, including a new distribution centre near Luton, the expansion of our Belvedere warehouse and, of course, our new London HQ."

Lidl recently confirmed plans to expand its Belvedere distribution centre, which services stores in south London. A new DC is also planned near Luton and will be Lidl's fourth serving the capital.