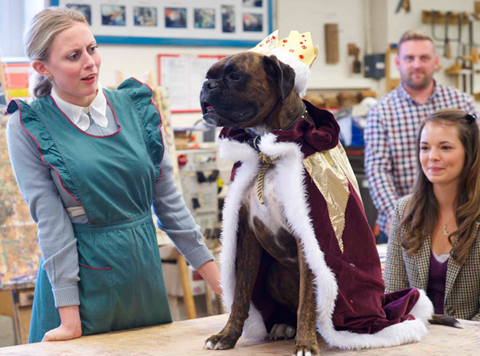 And lo, with eight weeks to go until everyone gets in a flap about turkey timings, the first of the seasonal supermarket ads have hit our screens.
Everyone loves the arrival of these ads because for the last few years they have provided some genuine talking points: the Asda sexism row, the Sainsbury's WW1 ad, that brilliant series of shorts from Tesco in 2012 that offered them false hope, and everyone wondering what Jools Holland was doing in that Aldi ad last year.
This year Lidl arrived early, making its debut on social media at 10.15am on Sunday. It's continued its holistic approach of selling the brand rather than any specific deals (although those ads will surely come). The 60-second ad is a very British affair, a bit twee, a little eccentric, where people of all ages visit Lidl's School of Christmas to take lessons in everything from untangling fairy lights to the very serious business of making a leftover sandwich. So was it any good?
It scores high on gentle charm but lacks the impact of last year's Lidl Surprises Christmas campaign, although that could be because it's very early days for a festive ad scored by sleigh bells to resonate with anyone. It's barely November. Outside the skies are bright blue. And consumers were in Halloween mode at the weekend. Perhaps Lidl flicked the seasonal switch too soon?
On the other hand, why not plant the seed early? It hasn't stopped Asda, which also released an ad on Sunday, an upbeat affair filled with Christmas lights, Widow Twankey (sexist), school nativity plays, Christmas parties, snowmen, a family slumped on the sofa after a day of traditional excess, and a bunch of Asda staff doing the bottom tap. Like Lidl, it avoids any mention of prices.
So is it any good? Well, it's a vast improvement on those boring snowmen from 2013 and that Christmas Smiles snorefest from 2014, but that isn't saying much. And, like Lidl, it could lose impact by being on too soon, although it's unlikely the others will be far behind.
Aldi won't be thrilled to have been sucker punched by its discount rival, and it will be going all out this year. And Morrisons needs a big Christmas. It's never been more important for it to sell its offer effectively and get the punters in.
Iceland's Power of Frozen campaign is brilliantly executed, and will probably continue over the Yuletide season, while Sainsbury's will try and tug at the heartstrings again – maybe it will base its festive ad on the refugee crisis this year?
M&S, Waitrose and John Lewis will no doubt make a good effort. And, of course, there is Tesco.
Arguably it needs a big Christmas even more than Morrisons. It will probably base its campaign around Brand Guarantee, but we will just have to wait and see. And, as ever, we will be drafting in some experts to give us their thoughts when they do.