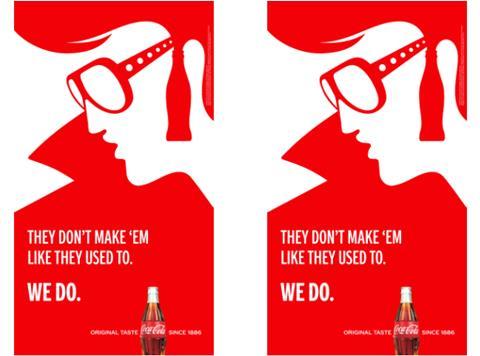 With the soft drinks levy coming into effect, Coca-Cola Classic has kicked off a four-week push called We Do.
Running from today (6 April) for four weeks, the push was designed "to celebrate and reinforce the uniqueness and specialness" of red Coke, said maker Coca-Cola European Partners. It comprises large-format OOH sites and social media, featuring images of Elvis Presley with the strapline 'They don't make 'em like they used to. We do.'
The new drive took inspiration "from the worldwide iconicity of the Coca-Cola brand and how it's maintained the same authentic and original recipe" for 132 years, CCEP said. The company worked with graphic designer and illustrator Noma Bar and design agency Recipe on creatives reminiscent of Coca-Cola's historical print ads.
Coca-Cola was "an iconic, well-loved brand that provides a moment of uplift for drinkers" said Simon Harrison, customer marketing director GB at CCEP. "Despite the world changing around it, the brand has maintained the same original recipe that was created in 1886 and is still loved by many today."
Value sales of Coke Classic were relatively flat last year, up just 1% to £576.3m [Nielsen 52 w/e 30 December 20170]. Made with 10.6g of sugar per 100ml, the soda will from today incur a tax of 24p per litre – which, based on 2017's volume sales of 424.3m litres, would land CCEP with a bill for £101.8m.