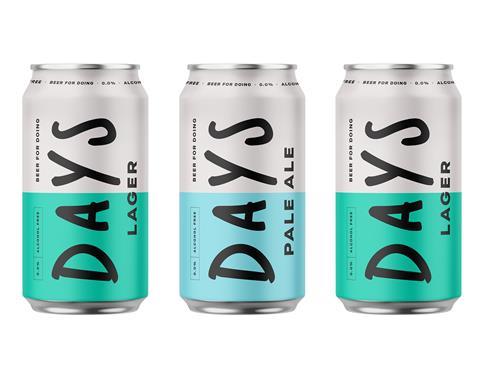 Alcohol-free beer brand Days Brewing has seen its TikTok following swell by more than 1,000% after participating in a viral trend on the social media platform.
The Days social media team last week challenged co-founders Mike Gammell & Duncan Keith to take part in the 'Tube Girl' trend on TikTok.
The video announcing the duo would be participating filming a video has to date been liked 12.7 million times, helping Days' TikTok following grow past 53,000 users.
A subsequent video showing Gammell's own take on the trend has been liked almost 1.5 million times.
The brand's following had increased by 1,225% on the platform as a result, leading to a 432% increase in web traffic and its "best-ever week of sales" in Tesco, Gammell said.
"Last Wednesday our social team asked the TikTok audience to persuade Duncan and I to take part in the Tube Girl trend," Gammel told The Grocer. "It went viral, 20 million views and thousands of comments later I had no option."
The success of the stunt has meant Days Brewing is now more 'liked' on TikTok than multinational beverage giant Coca-Cola.
Gammel continued: "We're determined to make our 0.0% beer brand fun and relevant for a modern consumer and TikTok is proving to be a really powerful channel for us to continue growing our brand awareness."
"We like to do things that big beer companies would never do and it's definitely exciting to see how it translates to sales," he added.
"Full credit to our social media team for being hyper-reactive and creating something fun and viral. Unfortunately they can now make Duncan and I do pretty much whatever they want to."
What is the 'Tube Girl' trend?
The 'Tube Girl' trend was sparked by user Sabrina Bahsoon, who last month began posting videos of herself dancing and lip-syncing whilst travelling on the London Underground.
Her videos have been 'liked' more than 16 million times and sparked copycat impressions from users in other cities including New York and Berlin.
Bahsoon has been invited to London Fashion Week and secured a modelling contract off the back of her newfound fame.