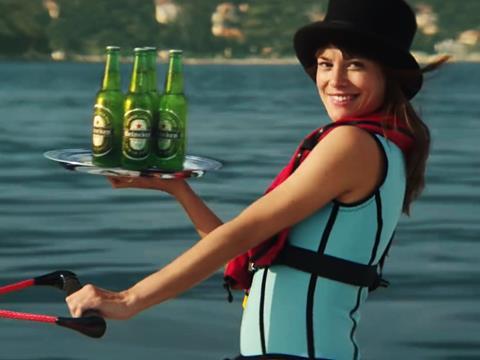 Fast cars and alcohol don't mix. So on the face of it, Heineken's major Formula 1 sponsorship deal – in which the brewer is to become the championship's 'global beer partner' – is a strange move. Indeed, as recently as last year there were calls for alcohol sponsorship to be banned from the sport, with the European Alcohol Policy Alliance calling the amount of alcohol-related exposure in F1 "extreme", adding that it generated "seriously mixed messages about drink driving".
But motor racing and booze have a long history together. And – unlike tobacco sponsorship, which all but disappeared from F1 after 2007 – the love affair continues. Martini, which has a long history in rallying and sportscars, is currently the title sponsor of the Williams F1 team. Estrella Galicia beer supports the Toro Rosso squad, McLaren has deals with Johnnie Walker and Chandon, while the Force India team carries Kingfisher sponsorship. And don't forget that at the end of most races drivers celebrate on the podium by liberally spraying booze over each other in an orgy of decadent joy (and in F1, the right to have your Champagne wasted by three sweaty drivers is a multimillion-euro affair).
Heineken's deal gives it title sponsorship of three races a season, as well as pouring, activation and access rights for most F1 races (presumably not those at 'dry' races like those in Bahrain and Abu Dhabi). Activations will include F1 circuit branding, TV ads, digital activations, live fan experiences and events, dedicated PR initiatives, and packaging/point of sale material.
Gianluca Di Tondo, senior director global for the Heineken brand, cites the "strong commercial opportunities; expansion of our responsible drinking platform in new and innovative ways; and enabling skill transfers between F1 and our employees" as key reasons it signed the deal.
And though the brand won't be appearing on any cars, it will undoubtedly benefit from masses of exposure. F1 boasts 400 million unique television viewers, for a start – while former F1 driver (and current TV commentator) David Coulthard is a big name brand ambassador for the campaign.
Then there's the prestige. While Heineken has done great business with its Champions League football and Rugby World Cup coverage, F1 offers it a glamorous edge. While it's hard to imagine the citizens of Monte Carlo swapping Champers for lager right now, Heineken was bold enough to get James Bond drinking its beer, and the sport's glitterati will help the brand play up its premium side.
What's most impressive about the deal, though, is Heineken's commitment to road safety, with its If You Drive, Never Drink campaign, which will see it attempt to convey a responsible drinking message. Heineken has form here with its Moderate Drinkers Wanted and Dance More Drink Slow ad campaigns, while it claims one third of all its rugby and football pitch-side advertising is dedicated to the moderation message.
Triple F1 champion Sir Jackie Stewart – a hugely respected figure – is already on board. And after all, racing drivers are a clean-cut bunch – proof if any were needed that going without booze makes you a better driver. The campaign can build on and add credibility to (F1 supremo) Bernie Ecclestone's Think Before You Drive push, while allowing Heineken to get the jump on those campaigning against F1 booze sponsorship.
While some might say Formula 1 should stick with more appropriate energy drink sponsors (of which there are plenty) – there's no reason why, like a vodka and Red Bull, the two can't complement each other.