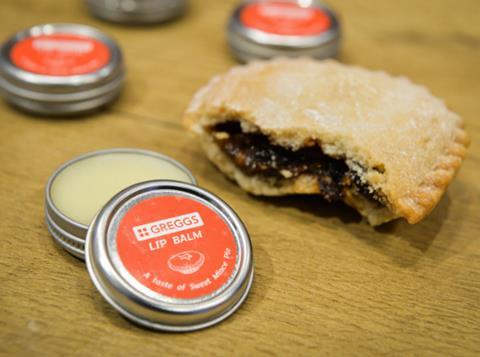 Greggs has launched a brace of lip balms based on two of its Christmas bakery SKUs, and is giving them away.
The two variants are aimed at replicating the taste of Festive Bake – a pasty packed with chicken breast, sage & onion stuffing and sweet-cure bacon in a creamy sage and cranberry sauce – and Sweet Mince Pie, shortcrust pastry filled with sweet mincemeat including Bramley apple and candied lemon peel.
They come in a pocket-friendly tin, 5,000 of which are set to be handed out for free from 10am today (19 December) in nine stores across nine UK cities – Belfast, Birmingham, Cardiff, Glasgow, Leeds, Liverpool, London, Manchester and Newcastle (more details below) – with customers in the capital having been asking for the balm since 6.30am.
The limited edition NPD is aimed at encourage kissing under mistletoe – a holiday ritual never practised by 31% of UK adults, according to Greggs. However, the retailer expected those who maintained the tradition to kiss at least six times from 1 December to 1 January.
"We wanted to bring some fun to the last-minute present dash," said a Greggs spokesman. "Whether it's a kiss under the mistletoe or a fun treat for a loved one, our festive flavoured balms will hopefully put a lip-licking smile on anyone's face."
Where to get the lip balms
Belfast - Donegall Square West, BT1 6JH
Birmingham - High Street, B4 7SL
Cardiff - Queen Street, CF10 2BW
Glasgow - Buchanan Street, G1 2LW
Leeds - Central Arcade, LS1 6DX
Liverpool - Wall Street, L1 8BU
London - The Strand, WC2R 1JA
Manchester - Deansgate, M3 2AY
Newcastle - Northumberland Street, NE1 7DE