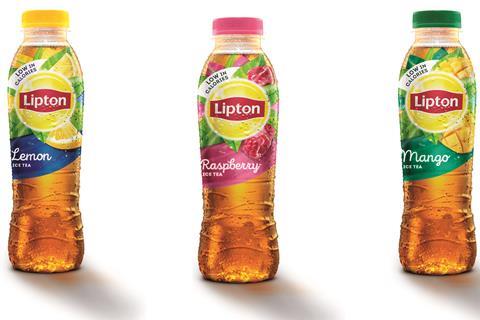 Lipton has been censured by the Advertising Standards Authority for making a misleading sustainability claim about the packaging of its bottled RTDs.
The ads watchdog upheld a complaint about an OOH poster for the tea brand, which stated "Deliciously refreshing, 100% recycled". Small text at the foot of the poster read: "Bottle made from recycled plastic, excludes cap and label". The ad included shots of two Lipton Ice Tea bottles, with the text "I'm 100% recycled plastic".
The complainant suggested that "100% recycled" misleadingly implied the entire bottle was made from 100% recycled plastic.
In response, Lipton owner Pepsi Lipton International – a joint venture between PepsiCo and Unilever – accepted the size of the "excludes cap and label" text was small and could have been overlooked. But it insisted the wording of the qualification was sufficient to clarify that the "100% recycled" claim related to the bottle only.
Plus, the general understanding of consumers was that bottle caps and labels were not made of recycled materials, the supplier added.
Nevertheless, the ASA ruled "the overall impression of the ad was that all components of the bottle were made entirely from recycled materials" and the qualification "was insufficient to counter that impression".
As such, the watchdog told Pepsi Lipton International that "the ad must not appear again in the form complained about".
The supplier must "ensure their advertising did not state or imply that their product packaging was made from 100% recycled material where it contained components that did not meet the criteria" the ASA added.
"We also told them to ensure qualifications did not counter the overall impression made by the ad."
Pepsi Lipton International "did not intend to mislead anyone with this ad" a spokeswoman told The Grocer. "We were simply celebrating that the plastic bottle is now made from 100% recycled PET. For complete transparency, we added a note on the ad itself to clarify that it did not include the label and cap. We believed that to be clear and are sorry to hear that anyone may have felt misled."