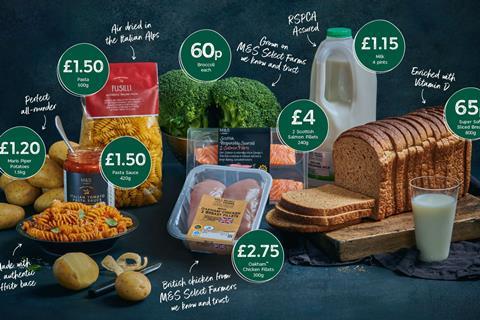 Marks & Spencer is hoping to convince consumers it offers permanent low prices with a new 'Re-Marks-able Value' marketing slogan for swathes of popular food lines.

The slogan will be used in stores, on social media and in print advertising to promote products that have been price-checked against key competitors. It aims to tackle perceptions of M&S as expensive.

The push follows a £100m investment in permanent price cuts, which M&S says has been substantially offset by a massive cost-saving drive.

Some 800 separate cost-saving projects are targeting everything from packaging specification and manufacturing efficiencies through to a more commercial approach to raw material buying. The aim is to save the food business £200m in costs by 2023.

It would mean a "simplified range without proliferation, reduced number of new lines and range churn, improved supplier efficiency, optimised carcase balance and centralised packaging buying", M&S said in a recent investors' presentation.

It is understood there is no intention to reduce the overall range, which has been growing in M&S's store renewal programme, but to focus innovation on new lines promising the greatest commercial benefit. Examples include Plant Kitchen, winner of The Grocer's own label range of the year award. The plant-based range has sold 15.8 million products since its January 2019 launch, according to M&S. Others include Best Ever, which was recently expanded from seven lines to 12.
In the supply chain, specific cost-saving measures include changing salmon feed, "resulting in better quality and lower costs", reducing the number of different ready meal food trays and shrinking the citrus supply base.

Price cuts on more than 500 lines in the past year had also been offset by ditching "complex and often confusing promotions", M&S said as it announced the new slogan.

All of it was being done while maintaining "M&S's quality point of difference", it added.

"M&S is changing to operate with more efficient and commercial operations and become a lower cost-to-serve business," said M&S Food MD Stuart Machin. "However, we are retaining the things that make M&S Food special - as delivering our exceptional product quality at even better value creates a differentiated and compelling proposition."

The cuts have focused on 'staple' lines such as RSPCA-assured milk, reduced from £ 1.29 to £1.15p for four pints, and Oakham Medium Whole Chicken, down from £4.50 to £3.50.

Other reduced lines included Authentic Italian Made Pasta at £1.50 for 500g and sustainably sourced two-packs of Scottish Salmon fillets at £4.50.

The measures are part of M&S Food's ongoing transformation plan, in which it aims to appeal more to families and boost average basket spend.

Last week, M&S's half-year results showed food sales up for the first time in two years, though group revenues and profits were dragged down by the clothing & home division. Total food revenues rose 1.2% to £2.85bn in the six months to 28 September 2019, with like-for-like sales up 0.9%.

Machin said: "Re-Marks-able is part of our plan to debunk the myths about our prices, as we know customers' perception doesn't always match the reality.

"M&S Food is changing fast and our value is increasingly competitive, especially on the everyday products families shop most often. But as we change, we're protecting the things customers love about M&S and that means never compromising our outstanding quality or sourcing standards, because it's those features that make M&S value Re-Marks-able."