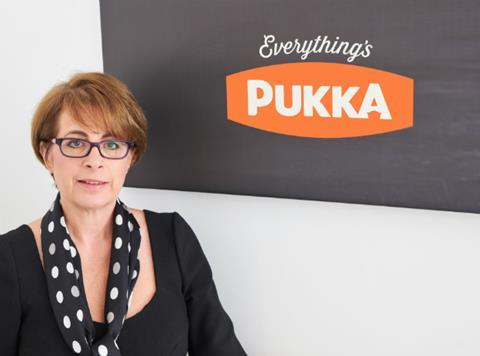 Pukka Pies is set to capitalise on major sales success with a £6m push, bringing its total media spend over the past 18 months to £14m
The Leicestershire business will kick off a 12-month campaign in June, six months after its £8m investment of 2017, during which time Pukka revamped its chilled grocery lineup and added a mid-tier range of pies.
Last year's activity led to a 23.8% (£5.8m) rise in value sales in the 52 weeks to 25 March 2018, making the brand worth £30.2m [IRI]. "That's way, way above where we set our target," said Pukka CEO Deborah Ewan.
The family owned business wanted to continue to "re-engage the nation in eating more pies". It was "clearly the number one brand in the UK" in its category" Ewan said.
A re-edit of last year's TV ad will air throughout the autumn, shortly after Pukka has grown its core range with a vegetable pie and two meat variants.
The brand is also looking to diversify into on-the-go and lunchtime options, increase its presence in convenience, and expand the grocery reach of its frozen lines, aimed at foodservice, beyond the six SKUs listed by Iceland, Heron Foods and Farmfoods.
"We've just started," said Ewan of the 54-year-old pie maker. There was great scope for "maximising opportunities and the breadth of the Pukka brand".
The business also wanted to ramp up its out-of-home offer, she added, having last month named Lee Birmingham as its new head of foodservice.
In February, Pukka reported a 45% plunge in pre-tax profits in the year to 29 May 2017, despite a 2.3% sales rise to £45.8m, as a hike in the cost of raw materials ate into its margins.