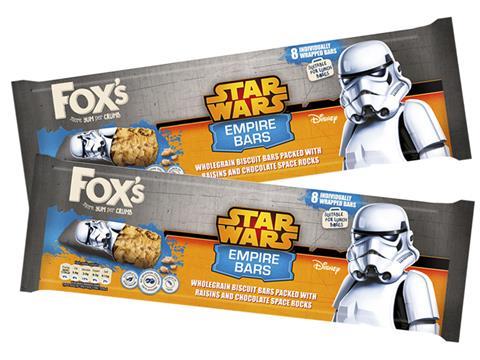 New Star Wars movie The Force Awakens is still four months away, but the grocery industry is already gearing up for the long-awaited return of the Jedi.
While merchandise tied specifically to the new Disney movie - which premieres the week before Christmas - will not launch until 4 September, food and drink suppliers are already tapping the excitement with licensed products carrying generic Star Wars branding.
Fox's has this month started rolling out Star Wars Empire biscuit bars (rsp: £1.59/eight bars with "chocolate space rocks and raisins") and Star Wars Galactic Snacks (rsp: £1.49/six-bag multipack of biscuits). They have launched alongside biscuit bars and snacks based on Disney's hit Frozen movie as the first collaboration between the 2 Sisters-owned supplier and Disney - though Fox's has promised "much more" to come.
Danone has already made its mark, in April launching a range of children's yoghurts and yoghurt shakes using Star Wars and Frozen licences.
And Kellogg's, which is ramping up activity around the Star Wars breakfast cereal it launched in the spring, is expanding its licensed range with Star Wars breakfast biscuits from next month. The wheat, barley and rye biscuits are chocolate-flavoured and carry TIE Fighter and X-Wing designs. They also launch alongside new Frozen breakfast biscuits.
"The drive to purchase will be very strong come Christmas when the new Star Wars film is released," said Kellogg's sales director Nick Dawson.
Disney has declared 4 September as Force Friday and is encouraging stores across the world to open at midnight for the release of The Force Awakens toys, collectibles, books and clothing. Among the products will be Lego sets and Hasbro action figures, and Asda has already put out shelf barkers in its toy aisle flagging up the date.
"Every lightsaber, every action figure, every Lego set tells a story for generations of Star Wars fans, and this global event is a celebration of those stories," said Josh Silverman, Disney executive vice president for global licensing.
Packaging for Star Wars: The Force Awakens merchandise will feature Kylo Ren, the masked villain of the new movie. While the plot of the film is still a closely guarded secret - as are retailers' plans for activity around the release - the movie is set 30 years after the events of Return of the Jedi. It will see Harrison Ford, Carrie Fisher and Mark Hamill return to play Han Solo, Princess Leia and Luke Skywalker, alongside newcomers including Daisy Ridley and British actor John Boyega.