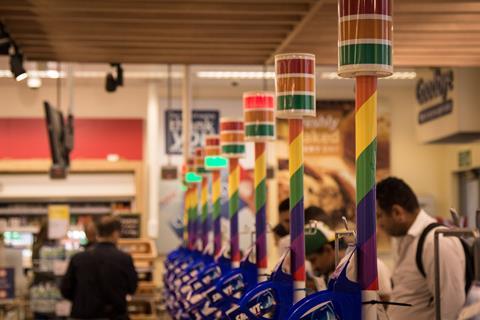 Tesco has announced it has become the headline partner for Pride in London.

It said the move was part of its mission to champion and support the lesbian, gay, bisexual and transgender (LGBTQ+) community.

Tesco has been a partner of the event, which takes place on 6 July, for 10 years.

It said the move to become headline partner showed its ongoing commitment to champion diversity and inclusion in the workplace, in its stores and beyond.

"We're delighted to be marking our 10th year with Pride in London by becoming their headline sponsor," said Barry Davies, chair of Tesco's LGBTQ+ colleague network, Out At Tesco. "Everyone is welcome at Tesco and this partnership underlines our ongoing commitment to championing diversity and inclusion in our business.
"Over the last three years alone, thanks to fundraising in our stores, proceeds from limited edition Pride products and community grants from our Bags of Help scheme, we have been able to provide over £150,000 in funding to local LGBTQ+ charities, community groups and Pride events across the country.

"Over the 10 years that they've been a valued partner of Pride in London, Tesco has provided us with an amazing level of support - from donating lunches for our volunteers on parade day, to fundraising for us in their stores," said Dan O'Gorman, director of strategic partnerships, Pride in London.

"Tesco is a genuine ally of the LGBTQ+ community, and we've seen with our own eyes that they're committed to welcoming everyone into their stores and providing a safe and inclusive environment for their customers, colleagues and all supporters of Pride."

"Every year at Pride in London we are joined by hundreds of Tesco colleagues, as part of the parade and as volunteers along the route. We are very excited to be strengthening our partnership with Tesco to support our mission to deliver the best, most diverse Pride yet."