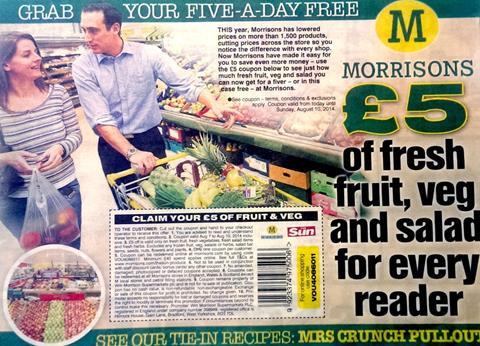 Morrisons has launched its second high-profile promotion through national newspaper The Sun in the space of a week - this time offering readers £5 off fruit, veg and salad.
Under the headline "grab your five-a-day free", the promotion appeared in today's (7 August) edition of the newspaper, and also publicised the retailer's move to cut prices on 1,500 key products.
Valid until Sunday10 August, it offers shoppers £5 off any fresh produce, and excludes frozen fruit and veg, salads or herbs, salad bar items, seeds, nuts, flowers or plants. No minimum spend is required in store, while there is a £40 minimum for online shopping.
The promotion follows a similar partnership with The Sun on 31 July, when Morrisons offered £5 off fresh meat and fish in-store with a minimum spend of £10.
A spokeswoman for Morrisons said it had partnered with The Sun due to its high circulation, which is 2.03 million according to the Audit Bureau of Circulation's most recent certificate [26 May to29 June].